When I am itching from an allergic rash or allergic reaction, I like to use benadryl cream to help relief the itching. But, since it is a little pricey for me, I started experimenting and making my own. This recipe works with liquid benadryl or powdered capsules. 
To make homemade Benadryl cream, you will need
Liquid Benadryl capsules or powdered Diphenhydramine (aka Benadryl). I buy my diphenhydramine in 50 mg per capsule form.
Emu Oil. I use 100% Pure Montana Emu Oil because we are about 90 miles from the farm where they make it and I like to support my state. But any brand of emu oil will work.
A spoon and scissors. Any kind will work for this.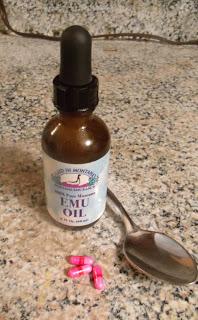 Making homemade Benadryl Cream
I used the powdered diphenhydramine because that is what I have on hand but, I think the liquid actually works better.
Cut open the capsule and pour the powder into the spoon. If you are using the liquid, then squeeze as much of it out of the capsule as you can.
Add about 15-20 drops of emu oil onto the spoon for one capsule.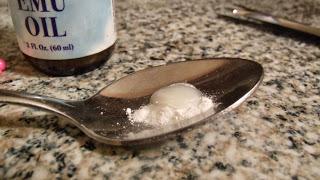 Mix together with another spoon until well blended. If you are using the powder form, you will want to let it sit for a few minutes.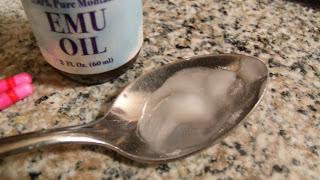 How much will this amount of Benadryl cream cover? This amount of cream covered the entire back side of my hand from fingertips to wrist.
Sometimes, I make a larger batch of Benadryl cream to have on hand and store them in these "Mini-Dippers" containers or something similar.
If you use this recipe, let me know what you think. 
Leave a comment or email me. I've used this on a few friends with positive reviews. I would love to hear from others too!