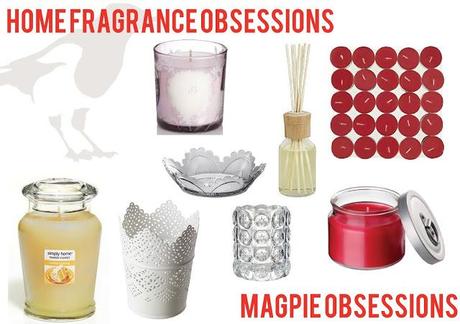 I've only had my own place for 6 weeks and I've already become one of those girls a little obsessed with candles. It seems to happen to the best of us years of being told by dad I can't light a single candle has left me with a desire to light them every evening. Also in our open plan lounge/kitchen it is a must to make sure you're not just spending the evening surrounded by the scent of your dinner. My favorite scent is by far apple spices and that hint of Christmas (yes I can't give it up) and these tealights from Asda Asda Apple and Spice Tealights £3 are the perfect bargain. I'm a big fan of supermarket candle offerings as I can't bear to part with too much money for something I'm ultimately going to burn away. I wince regularly at pictures of girls buying candles worth £50 or more. I'd have to win the lottery to justify that kind of spend and even then I'm not sure I could do it.
Asda is opposite my work so most of my collection are from there as is the few reed diffusers I have ever in apple and spice again or this delicious vanilla fragrance they offer Asda Reed Diffuser - £3. As mentioned I'm not going to be spending a lot on candles but when they come in reuseable and super pretty pots like this Marks and Spencer Sweet Pea Candle £6 I can't resist. I also love the Yankee ranges in supermarkets right now as they are huge and very reasonable for their strong scents. This one is one of my favourites Yankee Medium Vanilla Frosting Candle £8.
Finally I have to share my sheer love for Ikea and its candles and beautiful candle holders. Their price points are spot on and I can't get enough of the designs. The Ikea Candle in a Jar £2.50 is gorgeous and with a 25 hour burn time you can not go wrong. Also the Ikea Scented candles in floral pots £3.50 are too pretty to burn but once you do you can fill them with your own tea lights which makes them amazing value for money. Of course an obsession with candles leads to an obsession with the pretty pots you put them in
these three from Ikea are some of my favourites Ikea Tealight Holder £1.25, Ikea Block Candle Holder £2.50 and White Ikea Candle Holder £2.25.