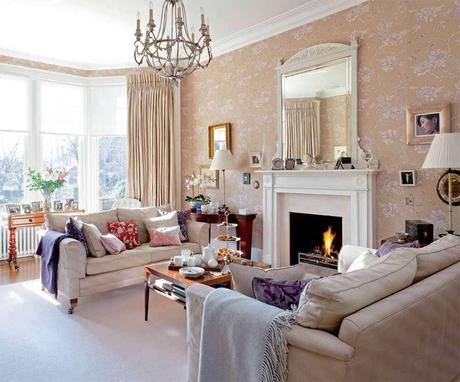 Downtown Abbey fever has swept across the nation as viewers tune in every week to catch up on their favorite well-to-do family. Not only are people swooning over the handsome gentlemen, gorgeous fashions and scandalous storylines but they have also got their eyes on the furniture!
The wonderfully vintage pieces seen in Downton Abbey have rekindled our love of antiques and demand has grown. If you want to bring a touch of class to your own manor house, we've got the perfect guide to help you
 search those 
furniture stores
 to
 find those stunning Downton Abbey-style 
pieces.
The 
Living Room
The living room, or sitting room, was a place where families would gather together to entertain guests, relax by the fireplace or simply chat to one another. It was a comfortable yet tidy room that often showed off the class and social status of the family. Artwork, 
usually 
a family portrait, would hang above the mantelpiece and there would have been a number of small sofas and armchairs. To recreate this look yourself, go for items that look luxurious and stylish. Soft furnishings and fabrics will warm the room and, if you can get a real-flame fire, go for it!
The 
Bedroom
When most people think of period drama bedrooms, they think of
 four-poster beds
. 
The great thing is you don't have to be living like a Duke in order to afford one these days. 
You can find a number of stylish four-poster beds online and in furniture stores. Add some soft, delicate curtains around the edge for a particularly boutique finish and look for vintage-style dressing tables for that extra feminine look.
The 
Bathroom
If you have the space for it, you can really get the vintage look by installing a free-standing bath with roll-top edge and claw feet. These are a staple fixture in period dramas and will make you
r
 bathroom look classy and indulgent. 
If
 you are a bit pressed for space, you can still create the right look using polished tiles, a 
vintage-style toilet 
with high cistern and chain flush and period artwork. Keep the colours natural and the lighting soft and you'll have the perfect Downton bathroom in no time.
The 
Kitchen
While you are probably not going to give up your modern kitchen gadgets, you can still create a beautiful old-fashioned kitchen without losing your home comforts. The best look to take inspiration from is County Cottage which promotes natural wood finishings, ceramic tiles, tiled floors and wrought-iron stoves. Lace curtains and fresh flowers will stop it looking too 
plain
 and you can always inject a bit of color with 
marbled granite surfaces or stylish Minton tiles.
The 
Dining Room
What period style dining room would be complete without a grand dining table? Traditionally, the dining room table
s
 were long and narrow
and either rounded or square in shape. The master of the house would sit at the head of the table with his family either side. To get this look just right in your own home, go for darker woods such as mahogany or oak and opt for high-backed chairs if you can. If space is an issue, a smaller table can be made to look impressive with a 
stunning 
centerpiece such as a candelabra or a vintage vase.