Hey Beauties!
I have recently been really into brow filling and shaping. It just enhances the overall eye makeup look future and I love it. So I ended up purchasing the
Anastasia Beverly Hills
Dipbrow Pomade
from Sephora. This will be my quick review on the pomade and what I think about it.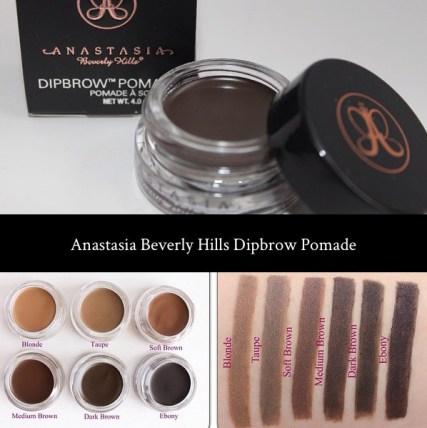 Swatches of different brow pomades.
Pros:
Smudge & water proof

This works really well for all skin and brow types and it works well for those with oily skin
On a sunny day, when your face gets a bit sweaty under the sun, this

Creamy consistency and glides on smoothly
Long lasting – it can totally last 8 or more hours!
Little goes a long way

If you take your angled brow brush and dab lightly into the pomade, it goes a long way

Adjustable colour
Great for both dramatic or natural eye brows
Cons:
Too much of this on your brows can make it appear muddy/splotchy
A little bit expensive ($23 CAD)
My Trick for Pomade Application:
Start from the arch of your eyebrows and then try to create an "ombre effect" when applying it. Use less pomade when applying it closer to the nose area and to make it more subtle and ombre, use brow powder near that area. The Anastasia Beverly Hills Dipbrow Pomade is definitely a holy grail in my makeup collection. It's perfect for those who have sparse eye brows (if that makes any sense?) or those who want to either enhance their eye brow looks and add more drama or stay subtle and go for natural looking brows. Although it is fairly expensive, a little goes a long way, so this thing will last you quite awhile! This product is a definite holy grail for me. Anastasia is definitely the brand to go to for brows!