16 Flares
Twitter
1
">
Facebook
1
Google+
0
">
Pin It Share
14
">
Email
--
Email to a friend">
16 Flares
×
When it comes to serving holiday appetizers, pinwheels of any kind top my list. People can't seem to resist any combination of ingredients rolled up into a tasty wrap, and these turkey pinwheels are no exception.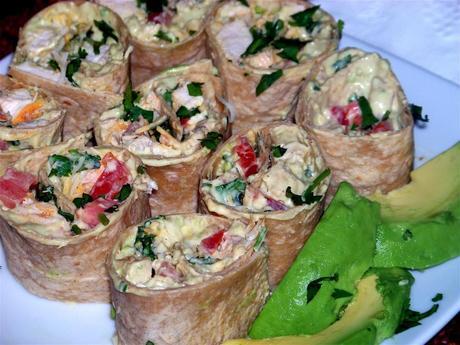 My pinwheel obsession started years ago with these Avocado Cream and Chicken Rollups my son requested after a family friend hooked him on the spicy filling. I've been making versions of this company pleasing appetizer ever since.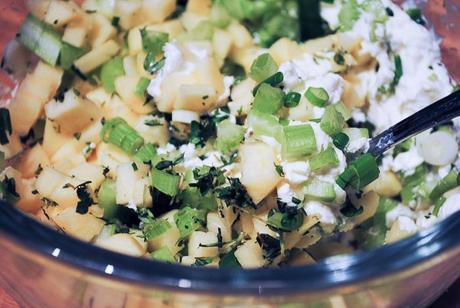 For these turkey pinwheels, crunchy apples and celery were a perfect compliment to turkey breast, so I tossed them into a bowl with a creamy mixture of low fat whipped cream cheese, and package of tangy goat cheese.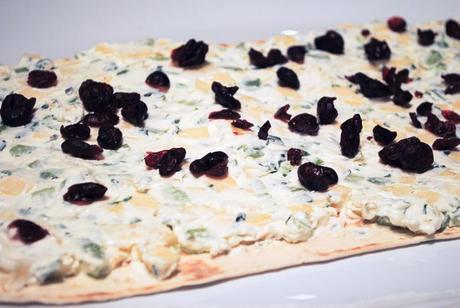 I spread my sweet mixture over Flatout's Pinwheel Lavash Bread I found at our local grocery store. (I'm always watching the calories and quality of my ingredients, and at 180 calories for this whole grain wrap, it was an easy drop into my cart.)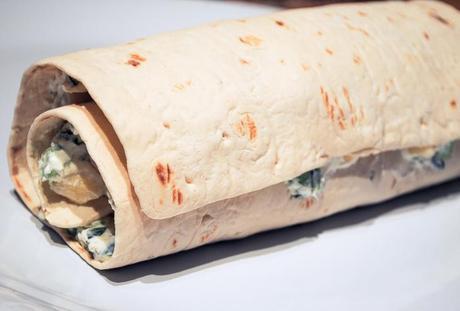 After squishing my ingredients into a log, I sliced them into appetizer sized pieces, then arranged them with a few pieces of green lettuce to add a little festivity to my appetizer plate.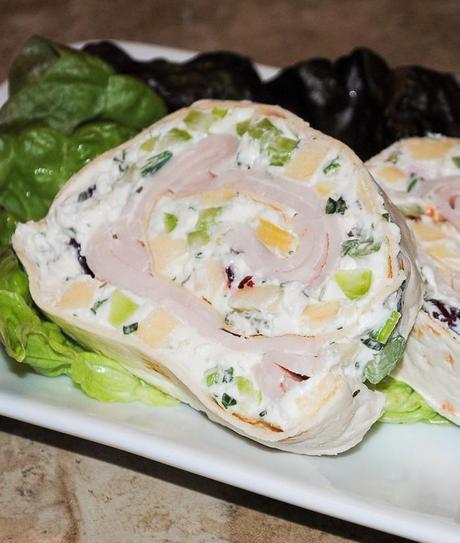 Don't these turkey pinwheels look company impressive? I can guarantee you'll be accepting compliments at the end of the evening.

If you're looking for more holiday appetizer ideas, a few weeks ago I sent out a newsletter with 35 company pleasing recipes.  You'll find appetizers from my collection, along with recommendations from fellow food bloggers.
I'm also pinning holiday recipes to my Holiday Pinterest board, so be sure to check it out, and follow along.
Follow Kristi Rimkus's board Holiday Recipes on Pinterest.
I'm off to start my holiday menu planning. Enjoy and have a terrific week ahead!
~Kristi

Sweet Turkey Wraps with Goat Cheese and Apples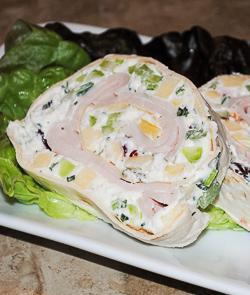 Print
Prep time 15 mins Cook time 1 hour Total time 1 hour 15 mins   This is a terrific use for leftover turkey. Flatout lavash bread is spread with a mixture of cream cheese, goat cheese, celery, apples and dried cranberries, then topped with turkey breast. Roll it up and you have a sweet and crunchy turkey wrap. Author:
Kristi Rimkus
Recipe type:
Appetizer
Serves:
8 servings
Ingredients
8 ounces low fat whipped cream cheese, softened
2 ounces goat cheese, softened
1 tablespoon lemon juice
2 tablespoons fresh thyme, minced
1 stalks celery, diced
1 large apple, diced
¼ cup dried cranberries
2 ounces turkey breast, thinly sliced
1 ea FlatOut Pinwheel Lavash Bread
Instructions
Combine cream cheese, goat cheese, lemon juice, thyme, celery, apples and dried cranberries in a medium sized bowl.
Spread evenly over Flatout Lavash bread.
Layer turkey over the top, and tightly roll from the end into a log.
Wrap in plastic wrap and chill for 1 hour.
Slice into 8 pieces and serve.
Notes Food energy: 118kcal
Saturated fatty acids: 4.07g
Monounsaturated fatty acids: 1.64g
Polyunsaturated fatty acids: 0.30g
Total fat: 6.02g
Calories from fat: 54
Cholesterol: 26mg
Carbohydrate, by difference: 9.37g
Total dietary fiber: 0.99g
Protein: 6.08g
Total lipid (fat): 6.61g
Water: 60.86g
Ash: 1.01g
Total sugars: 6.94g
Calcium: 70mg
Iron: 0.35mg
Magnesium: 8mg
Phosphorus: 91mg
Potassium: 162mg
Sodium: 184mg
Protein: 24.30g
Total lipid (fat): 26.46g
Water: 243.46g
Ash: 4.06g
Total sugars: 27.76g
Calcium: 281mg
Iron: 1.38mg
Magnesium: 35mg
Phosphorus: 364mg
Potassium: 648mg
Sodium: 739mg
Wordpress Recipe Plugin by

EasyRecipe
3.2.2807
Sign up for my weekly newsletter and get Ten Tips to Skinny Up Your Meals ebook free!

If you decide to make a purchase through my link, Amazon will pay me a commission for it. This doesn't cost you anything additional. These commissions help to keep the rest of my content free, so thank you!