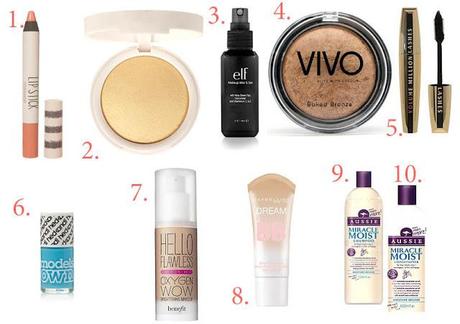 1. Topshop - LIP STICK IN COY 

Price: 

£7.00 2. 

TopShop -

HIGHLIGHTER IN SUNBEAM

Price: 

£9.00 3. 

ELF - 

Studio Makeup Mist & Set £3.50  4. 

VIVO

Baked Bronze

in Bronze £5.00 5. 

L'Oreal Paris Volume Million Lashes mascara

£10.99 6. 

Models Own Balearic Cool

£5 7. 

hello flawless oxygen wow!

SPF 25 30ml £24.50 8. 

Maybelline Dream Fresh BB Cream

£7.99 9. 

Aussie Miracle Moist Shampoo

 £5.99 10. 

Aussie Miracle Moist Conditioner

 £5.99



With my holiday fast approaching and a need for a little dissertation procrastination - even though I do not have time to be honest I have put together a little holiday beauty wish list. I've had my eye on these two Topshop items for a while and really need to take the plunge and just buy them now. My

MAC Fix +

is running out rapidly and even though I said it was needed to stay in my beauty routine forever - I just can't afford it right now so I really want to give the ELF version a go as I find alot of their products are fantastic dupes. I need to get a shade darked of my beloved Vivo bronzer mentioned

here

 as my current shade is going to be a little light for when I get a tan. Loreal volume million lashes mascara is my HG of mascara's I just can not fault it and its the best mascara I've ever used - I need the waterproof version ASAP for swimming in the sea :)  Still again I need to get my hands on Balearic Cool from the

Models Own Hed Kandi range as Hedonist and Beach Party

have been worn nearly every day since they arrived. I have read so many reviews of the Hello Flawless foundation by benefit and my current foundation is running out so I will definitely be giving this a go next I think the fact it has SPF 25 means it will be brilliant for holiday too. I need a new BB cream as always tehe and this maybelline version has SPF30 and a good shade range so I'm  going to give this a go soon. Finally Aussie Miracle Moist is my go to holiday shampoo as it really avoids the sunshine and sea water from 

completely

 ruining my hair. 

Do you have some must have go to holiday products that would go nicely with my list? Let me know!