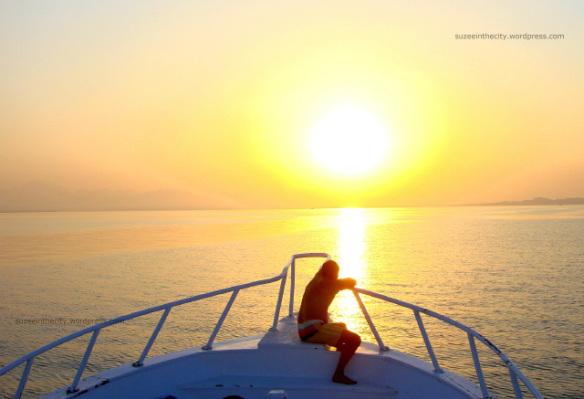 I'll be honest with you: I'm not a fan of Hurghada. Due to a series of short stops in the city, I've gained several first impressions that are far from positive. Maybe it's the shoddy collection of urban architecture that I can't help compare to its slicker, admittedly elitist neighbour, Gouna, or maybe it's the package tour groups and persistent hustlers that have always prevented me from seeing past the reputation this town has gained over the past few years.
It didn't help that on my first day of my recent visit I watched local tourist workers boast to each other about getting laid with foreign tourists, and those who approached me were borderline sleazy in their friendliness, one even offering me a 'glamorous photoshoot session', showing me photos of barely dressed Russians in suggestive poses. Ew ew ew.
My friends who've been coming to Hurghada for years told me that this is a sad truth, but not neccessarily all there is to the town. With their advice, I found fun things to do and see in this Red Sea town.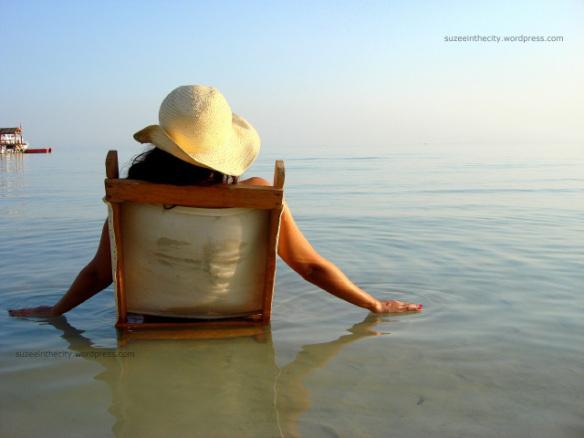 How to Get There
Hurghada is a five hours' drive from Cairo or a 50-minute flight via Egypt Air. Go Bus (dial 19567) offers daily buses as early as 7AM from Ramsis Station for around 80LE one-way. Once you're in Hurghada, you'll be using cabs a lot to get around: make sure you ask them to turn on their meter; if it's not working, haggle on the price before you get in. Most hotels offer limousine services: the Hilton Hurghada Plaza for example offers a car service to anywhere in Hurghada as well as to Gouna for a set fee of 40LE per person.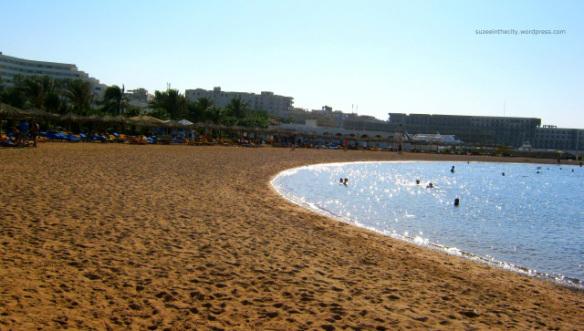 Where to Stay
The Hilton Hurghada Plaza has one of the best locations in town at just 15 minutes away from the airport and barely 5 minutes to the center of Hurghada and the marina. The hotel is located on the old port of Hurghada with a great sea view and access to a diving center as well as a pickup spot for glass boat trips and dive boat trips.  The hotel's standard double rooms are surprisingly spacious with very comfortable beds and sea-view balconies, and its beach is located on a circular bay where you can snorkel and windsurf.
Downsides include a small and crowded pool, subpar buffet dining and just two elevators for a whole hotel that were broken at the time of my visit.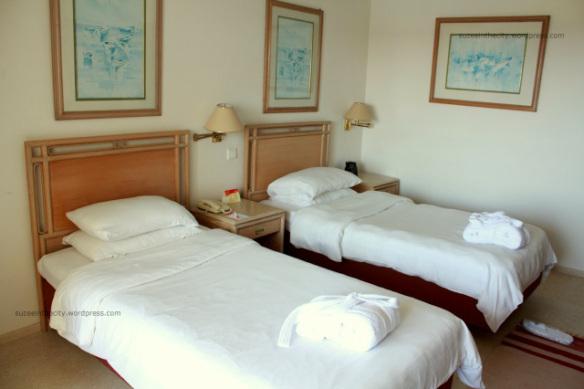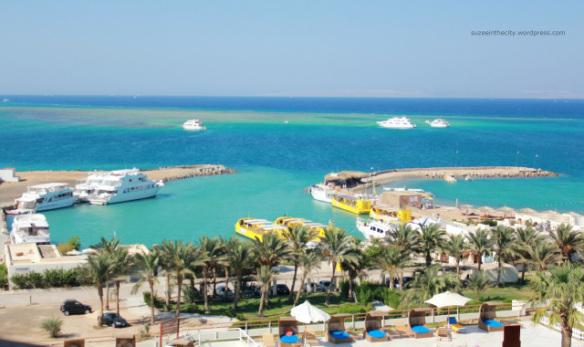 What to Do
Take advantage of the coast's proximity to pristine islands in the Red Sea by booking a ticket to the Mahmya. Located on the National Park of Giftun Island, Mahmya is a beach that you can reach by boat and spend the day sunbathing and enjoying the fresh seafood, juices, ice cream and the cocktail bar. Tickets cost around 150LE per person, and your hotel can arrange for tickets to be booked or contact Mahmya on www.mahmya.com. Another worthy beach is Orange Bay, also on Giftun Island, which is less crowded but offers a day trip that includes lunch on the beach, beverages and lounge chairs in the shade. Expect to pay around 150LE if you're renting out a boat for a large group.
You can also arrange for a full-day boat trip to dive and snorkel in the Red Sea; your hotel can arrange it for you. Kite surfing is also a great option here; try Colona Water Sports center in front of Magaweesh Hotel, which offers kite surfing classes as well as equipment rental.
Red Sea Explorers is gaining quite the reputation for its adventurous dive trips that include monkey diving and kite surfing off islands in the sea. The company's liveaboard Tala offers full-day or several-day dive trips North and South of Hurghada, as well as technical and recreational diving courses. The trips aren't cheap, but you'll have an enjoyable, luxurious boat stay surrounded by fun, easygoing people that's well worth the price.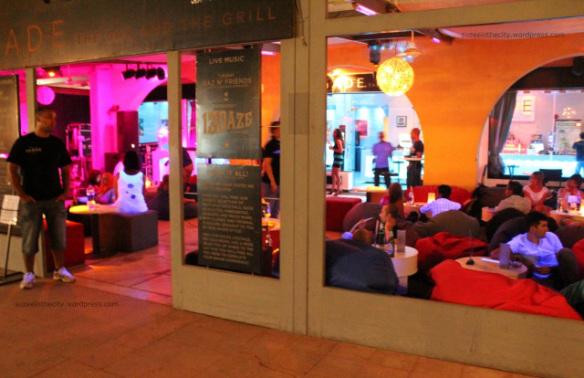 Where to Eat
Hurghada's marina is a great destination if you want a variety of dining choices and you enjoy dining al-fresco to enjoy the Red sea evening breeze. Additionally, it's nice to take a walk along the marina and fawn at the different boats while perusing the various tourist shops and swimwear boutiques. For breakfast, try B at the Marina's crab omelettes, creamy fuul breakfasts and Italian espressos. Also if you're feeling adventurous, the restaurant is known for its camel mignon tenderloin with chocolate chili sauce. If you're up for Asian cuisine, Thai Elephant offers generously portioned fish cakes and tangy red chili sauces – but avoid the pad Thai – while Masala offers Indian cuisine and a cozy outdoor lounge area with shisha.
When it comes to nighttime entertainment, Shade is a favorite among residents for its regular live band nights, smooth shisha and elaborate cocktails. The bar has a lounge area full of bean bags and low tables where you can sit and watch the night's performance. Next door, Papa's bar has karaoke nights and an open-air bar area where you can people watch while enjoying draft beer and finger food. If you're up for dancing, White Beach is recommended by locals as a good option on Fridays and Saturdays. Located on the Sheraton Road, the nightclub regularly hosts Egyptian and international DJs and plays the latest popular house music tracks.
While Hurghada may lack the sophistication of Gouna or the quietness of Soma Bay, the city has a lot more to it than meets the eye; as long as you spend most of your time at sea enjoying the watersports and boat trips.