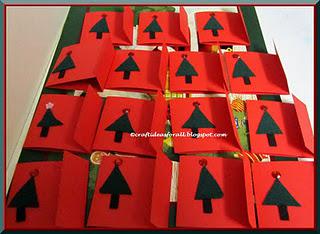 Most of the kids in US have their winter break going on now. Usually the last day at school before the winter break is the day they have a little holiday celebration. That was on Friday Dec 16 at my daughter's preschool. Thursday night she decided she wants to give handmade holiday greeting cards to all her friends. Frankly I was little tired and was kind of reluctant. It was a very busy day and I had an order to complete which I had to ship early morning. But I didn't have the heart to curb her enthusiasm.
So we decided to keep it simple and quick so that we can make 15 cards and where she has to do at least 75% of the work.
This is how we made it.
Supplies you will need:
- Red Card stock Letter size
- Paper trimmer preferable
- Score board (optional but recommended)
- Bone folder
- Ruler
- Edge punch (optional)
- Scissors
- Silver stamp Pad
- Markers : Silver or any color that is visible on Red card stock.
- Peel and stick Felt : Green and brown
- Rhinestones red or any your like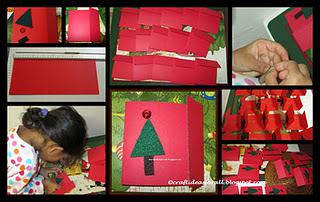 Step wise instructions
-------------------------
1. Cut the card stock in desired size. We made 3 fold card so I cut the letter size paper in 3.5" width from the 8.5" side of the paper. So you will get 3 cards from one paper. Refer the picture.
2. Take one of the card piece and on scoring board score at 3.5" and 7" from the left edge of the paper.
3. Use edge punch to punch the edge of the third part of the card. Refer picture.
4. Draw a triangle on the back side of green the peel and stick felt. Draw a little rectangle on the back of brown peel and stick felt. Cut them using scissors. Kids can cut this using safety scissors or parents can help.
5. Let the kids stick the felt pieces and rhinestone as shown in pictures.
6. Ink the punched edge with silver stamp pad. Just run the stamp pad on the edge. This is an optional step.
7. Use the silver marker to write Happy Holidays inside the card.
8. Let your preschooler write their names if they have learnt it, my daughter did. If not them parents can help but let them tell the alphabets of their names. Most of the kids know them by now.
The cards are ready to be given. As they are 3 folds you don't need envelope if you want to keep them cute and casual. We just tied all of them together by a golden ribbon. Her friends loved it.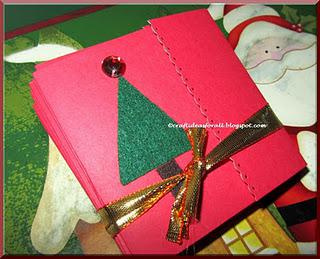 Happy Holidays!!
Tips:
1. Plan in advance, my daughter was a little tired after writing her name 10 times.
2. Handmade cards are best for preschoolers, they learn making them and have lots of fun too.
3. If you do not have scoring board simple use bone folder with metal ruler. That should do the trick.
4. If you do not have edge punch you can use decorative scissors too or just leave it as straight edge.