Foodies tend to be very picky people when it comes to what they like. So finding the right gift for one can be a real challenge. BonAppetit.com knows what cooks love and put together a list of 31 Gifts Under $50 to Stuff Your Stocking and Fill Your Pantry. With 31 ideas to draw inspiration from, there is enough variety to find something for everyone. Follow the link at the bottom for all their great ideas.
Anything that makes a cook's job easier and delivers better results is a good gift idea. If there's one thing all foodies are obsessed with it's perfection, whether it's making the perfect omelet or the perfect roast turkey. And sometimes that simply comes down to having the right tool for the right job.
Foodies are known for their tendency to bring a camera every time they go dining. Taking pictures of their latest food adventures just goes with the territory. Camera accessories and equipment that will help them take better pictures are a wonderful gift idea.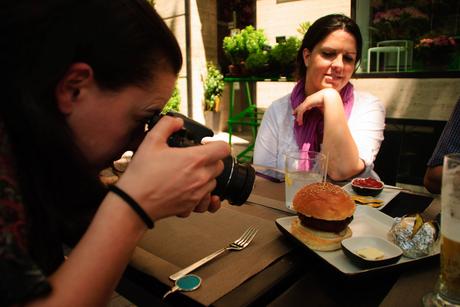 Everybody recommends knives as a gift idea. And it's true they do make great gifts. But if there's one thing that cooks obsess over more than food it's their knives. Not just any set will do. If you're planning on buying a knife set as a gift, it's better to ask the recipient what they like instead of trying to surprise them.
Getting someone who loves to cook some kitchen utensils is rather predictable. So try to find unique products that have a more personal touch. Such as a custom apron or set of oven mitts embroidered with their name.
Cutting boards make great presents as well because they come in a variety of shapes, sizes, and materials. You can get colorful plastic ones for someone who is more contemporary. Or rich wooden cutting boards for someone more traditional.