As a part of my love for people and for the AMAZING STRENGTH they have… I love to share culture…   the remnants of a  S. African experience is  often  shared through the eyes of those who experience it firsthand.
Here is a rendition of one of my famous trip and my very personal thoughts and experiences while there. My inner thoughts spoke  quietly, but very appreciatively as I expereinced them. If you'd like to read more on my journal, please go here.
So it took me about two and a half days to get over jet lag— it seemed like I went through a time warp and had to wake up! I didnt know passing through so many time zones does this to your body!  Wow…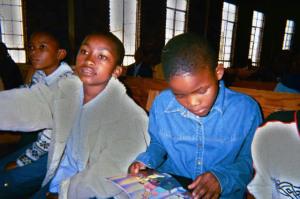 Children at the church in Sharpeville, S. Africa
May 17th, 2003
 I cried tonight… something  just hit me as  I was  about to leave the home of a few friends we had met and had dinner with.  They started singing and stood in a circle before we left, praising God, and the song was melodic, I couldn't help but cry. I really didn't know what they were singing, but wow… it made me really feel real full. They focused on me as a visitor, and made me feel so welcomed ! I  was just overcome with emotion… I just cried because they sounded like home. They really sounded like the people I grew up in church with, and if I closed my eyes. My second day here, and I have a memory to last a lifetime…  I am  resounding with love in this place for people that I have been destined to meet…wow… I was asked by  my brother Mpho tonight: "What do you do as a social worker when the people seem to lack vision and purpose?  I was sort of taken aside, cause the question was so deep!
( I thought to myself…,' do I really help people on that level as a social worker?'  - but then, I realized I did have something to say.)  being with my brothers and sisters in S. africa made me realize that I indeed had a worth much deeper than myself. I  left S. Africa wishing I had MORE time… that  I could live there longer, and learn more about myself… so much was missing inside of me and I needed it to DO MY WORK, in America, … in the rest of the world… To be the BEST social worker I could be. Selah.
The words that came out of my mouth were strategic, and surprised even me… It made me realize there was an even deeper purpose and reason for   being  here, and  helping me to see what was really in me.
May  18, ,2003
I went to a funeral today, in south africa, something that apparently happens all the time. My counterparts knew the  family.. it was  for a young lady who was apparently very young, and had three children. She left a husband and her lovely kids behind… sad… it was. My friend Karabo says funerals happen everyday here. Selah.
Then we went to a church where they said they were taking me to something  I would absolutely love!  and boy.. were they SO RIGHT!!  ;0) They said it was a fashion show and entertainment for the children in the church.  When I walked into the church, I was mesmerized! It was like  entering the church  I was set in a dream!  They had eyes like mine! Wow.. wonderful…and their faces shine, brightly! I loved the children.. i loved them, wherever I went… I just loved them…
Boy did I wish I had a   video camera to take pictures!  I left video cam behind, because I didn't have a way to charge it… and was very upset with myself, so I took a load of pictures!  They seemed to be children everywhere!!  I run through a pack of pictures within 15 mins when  children are around!  ( Now mind you, this was before digital became popular, so I took with me about ten to twenty rolls of film! )  There were dancers there, Karabo told me about long before I came to Africa. And my oh my, they were awesome! They danced to Micheal Jackson's songs and  were extremely good! ;0) They mixed African and  american styles of dance together… and I just LOVED IT! I thought of all the people I wanted there with me to see this!  Then, after all the  American dancing and  fun… they danced African  songs and  wore their  tribal gear . I loved this the best… I can come across the earth and hear Michael J. anytime.. but to hear the octaves of their voices and the  movements that are so authentically "US" as a people… made me speechless… They are truly ready for Broadway! In fact, Broadway ain't got nothing on these teenagers! WOW… imagine that! They are so much better than I could have ever imagined…
I cannot  explain how it felt to see the children…. In fact they talked it up all day… and referred to them as "The children". When I looked into their eyes.. I saw so promise! I saw such brightness and  they had eyes of faith. So many of them.. really BRIGHT eyes.. and some even had red cheeks! Karabo's wife Rebecca said to me: "These are our children, this is your program." something about the African people they want to give…  so  much. They wanted me to own them.. own the culture and experience, so they would offer and give me experiences, even before I  experienced them, It's as if they were setting me up to experience something really special. And yes, it was. I was really shocked when she said that, but now, looking back several years later, she was informing me that this culture – this experience was something I should desire to take back to the States… the children, their faith, and their  livelihood that resonated so strong in the families and the parents prided themselves on the  children and the 'aura' – if you will – surrounding  them.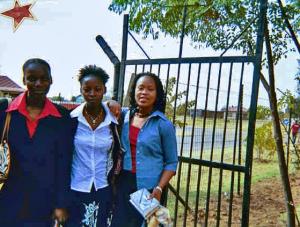 Teenagers in their groove" S. A.