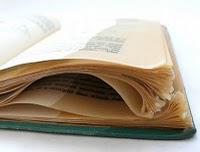 So in an effort to be the cake company on the tip of every ones tongue I went out on a leaflet drop last week. I tried to make it less annoying for recipients by delivering a book mark so whether you use the information on it or not, at least you won't ruin your next book.
Well this ended up as a success in more ways then one. Not only did it get these fast spreading hips walking around a bit but I got to meet a wonderful lady whom popped out to say hi after my bookmark glided onto her doormat. A wonderful cake baker herself during our conversation I gleamed 2 new recipes and got jealous when she told me about her original
KENWOOD
grrrr
.
When I started looking them up it got me to thinking about all manner of old recipes and cake baking so I started to search and see what the first traditions around cake and who indeed may have baked the first soft and fluffy sponge. Without putting my entire day aside for this one topic (as information is aplenty and all consuming) I gleamed these small few facts.
As we all know cakes are a way for people to mark the occasion and are of great importance during birthdays and weddings and no meal is ever really complete until the sweets are served and devoured. Early 13
th
century European bakers would produce ginger bread and fruit cakes that would last for months, I think I brought one of these at my local convenience store last week . Interestingly I also found out the tiered wedding cake developed from an old tradition of piling small cakes one on top of the other; the bride and groom then kissed over the top of the pile if they managed to do so without the pile falling it meant a marriage of bliss and prosperity.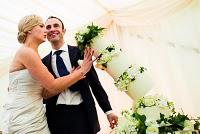 NOOOO...I need bliss please give me back my prosperity!!!


A french chef visiting England in the 1660's appalled at the witnessing of the cake piling tradition conceived the idea of taking the bland biscuit tower and turn it into a tiered iced sponge extravaganza. British papers of the day deplored the french monstrosity but I'm very glad of this development myself.

So here is the first of 2 recipes to try out this week a massive thank you to Sara Adams of Gospel Oak.

Sacher

Torte

6 egg whites5 ounces semisweet or bittersweet chocolate, chopped 1/2 cup butter (no substitutes) shopping list6 egg yolks1-1/2 teaspoons vanilla1/2 cup sugar3/4 cup all-purpose flour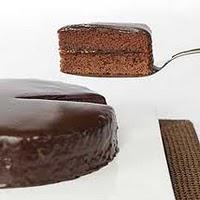 2/3 cup apricot preserveschocolate glaze (see recipe below)chocolate curls (optional)Edible flowers (optional)
How to make it

Let egg whites stand at room temperature in a very large bowl for 30 minutes. Grease and lightly flour a 9-inch spring-form pan. Set aside.Melt chocolate and butter in a medium saucepan over low heat; cool. Stir egg yolks and vanilla into the cooled chocolate mixture. Set mixture aside.Beat egg whites with an electric mixer on medium to high speed until soft peaks form (tips curl). Gradually add sugar, about 1 tablespoon at a time, beating about 4 minutes or until stiff peaks form (tips stand straight).Fold about 1 cup of the egg white mixture into chocolate mixture. Fold chocolate mixture into remaining egg white mixture. Sift about one-third of the flour over the egg mixture; gently fold in. (If the bowl is too full, transfer mixture to a larger bowl.) Repeat twice, sifting and folding in one-third of the flour at a time.Spread batter into the prepared pan. Bake in a 350 degree F oven for 30 to 35 minutes or until a wooden toothpick inserted near the center comes out clean. Completely cool cake in the pan on a wire rack. Remove sides of pan. Brush crumbs from edges of cake. (Top crust will be slightly flaky.) Remove bottom of pan from cake.
Heat preserves in a small saucepan until melted. Press apricot preserves through a sieve; cool slightly.To assemble, cut cake horizontally into two even layers. Place the bottom layer on a large serving plate. Spread the preserves on top of the cake layer on plate. Top with the second cake layer. Pour Chocolate Glaze over torte, spreading as necessary to glaze top and sides completely. Let torte stand at room temperature at least 1 hour before serving. If desired, top with chocolate curls; garnish with edible flowers.Chocolate Glaze: Cut up 4 ounces semisweet or bittersweet chocolate. Heat chocolate and 2 tablespoons butter or margarine in a saucepan over low heat just until melted, stirring occasionally; set aside. Bring 1/2 cup whipping cream and 2 teaspoons light corn syrup to a gentle boil in a heavy small saucepan. Reduce heat and simmer for 2 minutes. Remove from heat. Stir in chocolate mixture. Cool to room temperature.
Let me know how your attempts turn out I'll post pictures of my attempts later this week I want to make sure none of yours are better first.....Happy Eating All!
Nicola
Quigley
@
BakerQuigs
[email protected]