Explore Toronto's past through Historical Maps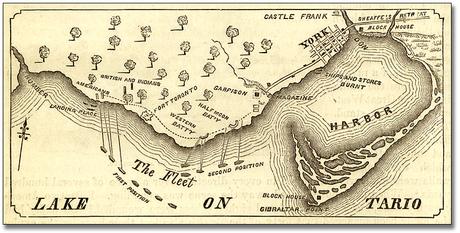 Historical Maps can be a great resource to help people learn more about certain geography at a particular point in time, help locate where our ancestors lived, or help us understand how a neighborhood or surrounding area changed over time. Because older maps were created by hand, they tend to be more artistic and visually appealing and thus can be attention grabbers.
Historical Maps have existed in libraries & various personal collections for years but thanks to advancement in digital technology and the internet, we have started to see more old maps being shared in the geospatial community.
The Historical Maps of Toronto blog created by historical maps enthusiast Nathan Ng provides simple and free access to a large selection of notable historical maps of the Toronto area that have been scanned from collections at the Toronto Library and the Toronto archives.  He started the site as a way to generate more curiosity for geography, and as a way to provide an easy entry point for people to discovery and further investigate historical cartography.
Maps on the site generally have public domain status (except where otherwise noted) and can be downloaded, printed and shared.
Some of the maps in the collection include:
1791 Jones An Accurate Plan of a Survey of the River Trent, North [Shore] of Lake Ontario to Toronto
1792 Bouchette Plan of Toronto Harbour
1793 Aitken Plan of York Harbour Surveyed by order of Lt. Gov. Simcoe
1797 Smith Plan for the enlargement of York

1801 Elmsley: Sketch of a Part of the Town of York
1802 Chewett Plan of 916 1/4 acres, in the Township of York in Upper Canada—property of the Honble. D.W. Smith
1811 Wilmot Plan Shewing the Survey of the land Reserved for Government Buildings, East end of the Town of York
1817 Smith Plan of York, U.C.
1818 Phillpotts Plan of York
1834 Chewett Plan of the City of Toronto and Liberties 
1834 Alpheus Todd Engraved Plan of the City of Toronto
1836 Lynn: Plan of Building Lots in Toronto the Property of the Hon. Peter McGill
1837 Hawkins: Toronto Military Reserve [Feb. 1837]
1842 Cane Topographical Plan of the City and Liberties of Toronto
1870 Canadian Railway News Bird's Eye View of Toronto
1876 Gascard City of Toronto Bird's Eye View from the Northern Railway Elevator
1886 Wesbroom: City of Toronto [Bird's Eye View]
1892 Toronto Railway Company Map Shewing Toronto Street Railway Lines
Plus many more, click here for a full list of Historical Maps of Toronto maps available
Online Toronto Historic Maps comparison tool
Are you a resident of the Greater Toronto area and want to know what your community looked like 50 years ago?
Well Nathan Ng has also taken his blog a step further by teaming up with Esri to create the Online Toronto Historic Maps comparison tool. This free web application provides people with the ability to compare different places in Toronto through time from 2013 back to 1818.
Historical  paper maps from the Toronto Library and the Toronto archives were scanned, georeferenced, mosaiked and then combined so that people could compare them with one another using a simple easy to use interface that anyone could use.
.
---
September 12, 2015 |
CanadianGIS
Tags:
geospatial community, historical maps, maps, Nathan Ng, old maps, Toronto
You must be logged in to post a comment.