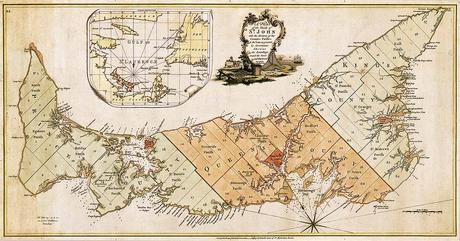 The "Island Register" website is an amazing online resource for information on Prince Edward Island (PEI) genealogy. They have a database with more then 1150 lineages and 4500 documents, including photos, maps, ship logs and much more.
Some of the online historical maps available that you can download and print include:
1744 Dressée sur les Manuscrits du Dépost des Cartes et Plans de la Marine
Plan of the Island of St. John – from Samuel J. Holland and his survey of St. John's Island showing Proposed Lots and Parishes (map shown above)
1832 M'Gregor Map of Prince Edward Island
1878 Railway and Postal Map of Prince Edward Island
If anyone knows of other sources of old maps of Prince Edward Island then we would love for you to share that info with us, so we can include it with our collection of Canadian historic cartography section.
Related
February 25, 2015 | CanadianGIS
Your email address will not be published. Required fields are marked *
Name *
Email *
Website
Comment
I have read and agree to the Terms & Conditions
Initials
Notify me of follow-up comments by email.
Notify me of new posts by email.