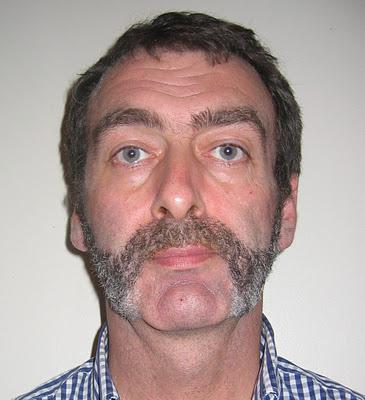 As you know Ian Green has donated his face to Movember and for the rest of the month will be growing a luxuriant moustache for charity. Ian tells us he is going for the full mutton chops too! Here he is on day 14.
Movember (the month formerly known as November) is a moustache growing charity event held during November each year that raises funds and awareness for a number of male-related charities including the Prostate Cancer Charity and the Institute of Cancer Research.
During November each year, Movember is responsible for the sprouting of moustaches on thousands of men's faces in the UK and around the world. The aim of which is to raise vital funds and awareness for men's health.
On Movember 1st, guys register at Movember.com with a clean-shaven face and then for the rest of the month, these selfless and generous men, known as Mo Bros, groom, trim and wax their way into the annals of fine moustachery. Supported by the women in their lives, Mo Sistas, Movember Mo Bros raise funds by seeking out sponsorship for their Mo-growing efforts.
You can support Ian (who is pictured here on November 1 with his starter stubble) on his Movember web page here.
Mo Bros effectively become walking, talking billboards for the 30 days of November and through their actions and words raise awareness by prompting private and public conversation around the often ignored issue of men's health.
The funds raised in the UK support the number one and two male specific cancers – prostate and testicular cancer. The funds raised are directed to programmes run directly by Movember and our men's health partners, The Prostate Cancer Charity and the Institute of Cancer Research. Together, these channels work together to ensure that Movember funds are supporting a broad range of innovative, world-class programmes in line with our strategic goals in the areas of awareness and education, survivorship and research.