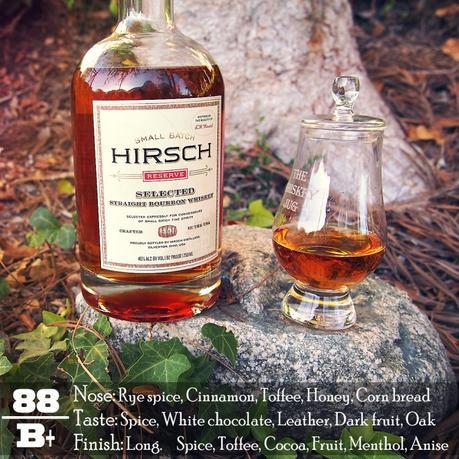 Hirsch Small Batch Bourbon is sourced bourbon put out by the folks at Anchor distilling. Who do they source it from you might ask? Why it's our friendly neighborhood distiller-for-hire MGP. Wondering how I know that? Well, after hours and hours of online searching, digging through the dark underbelly of the internet, I looked on the back of the bottle.
That's right. Hirsch Small Batch Bourbon has followed the TTB guidelines to the letter and actually discloses where the whiskey comes from. They don't claim to have made it and they don't try to cover it up either. It's right there on the back label in black and white. Honesty… how refreshing. Now on to the Hirsch Small Batch Bourbon review!
Hirsch Small Batch Bourbon Info
Region: Indiana, USA
Distiller: MGP
Bottler: Anchor Distilling
Mashbill: Blend of 2 MGP bourbons (60% Corn, 36% Rye, 4% Malt + 75% Corn, 21% Rye, 4% Malt)
Cask: New-charred Oak
Age: 7 Years
ABV: 46%
Price: $35*
Hirsch Small Batch Bourbon Review
EYE
Caramel
NOSE
Rye-forward spice, cinnamon, toffee, honied cornbread, dark fruit, leather, oak and cocoa. It's a wonderfully sweet and spicy aroma. There's never been any doubt that MGP makes good whiskey.
PALATE
Complex spice, white chocolate, leather, dark fruit, oak and cornbread with light notes of tobacco, toffee and cinnamon. Again, that wonderful sweet and spicy combo sweeps through. Zero complaints.
FINISH
Long layers of spice, toffee, cocoa, fruit, menthol and anise.
BALANCE, BODY & FEEL
Well balanced, full bodied and a warm syrupy feel.
OVERALL
Hirsch Small Batch Bourbon is a well rounded bourbon with layers of sweet and spice all playing off of each other. There's a nice bit of oak to help give it a solid structure and it has a nice balance across the entire whiskey. It's a bourbon that comes together well and comes across the senses cleanly an purposefully. This is why people use MGP for sourced whiskey, they create great stuff and at $35 a bottle this is a hell of a deal.
SCORE: 88/100 (B+)
*Disclosure: This Hirsch Small Batch Bourbon was graciously sent to me by the company for the purposes of this review. The views, opinions, and tasting notes are 100% my own.