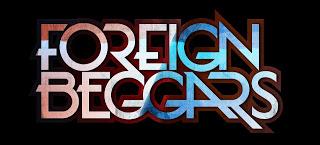 Hello Electronic Music Fans!,
This is the first in a long line of blogs dedicated to electronic music and its many offshoots and variations. My name is Tapia I am an electronic musician, Composer, Rapper, Audio Engineer and Videographer.This Blog "Synkrow" is just my take on, up and coming personalities,recording artists and trends pertaining to the electronic music genres.
The first Group I want to talk about on this,"Synkrow's" first inaugural blogpost is the UK's very own Dubstep and Hip Hop trailblazers, Foreign Beggars. Foreign Beggars is made up of three individuals ,namely, MC's Orifice Vulgatron, Metropolis,and DJ Nonames. The group has been established since 2002. They have cumulatively released 13 projects ranging from  full albums to Three song EP's.They are in Chronological order and  titled, Where Did The Sun Go(2003), Seasons Beating(2003), Asylum Speakers(2003), Bukkake Ski Trip(2006), Stray Point Agenda(2006), Beggars Brew(2006), Hit That Gash (2008), United Colors of Beggatron, Foreign Beggars -No Holds Barred, Get A Bit More-Excision and Skism Remixes(2010), United Colors of Beggatron Remixes EP 1, The Harder They Fall EP, and the present album they are promoting The Uprising on Deadmau5's very own Mau5trap label.
They are currently on tour promoting The Uprising. Foreign Beggars has toured the world extensively during the last seven years. In 2004 they won the award for the "Best New Act "at the "UK Hip Hop Awards". They were also voted "Best Group" at the "Lyric Hip Hop Awards" in 2005.They have also been nominated for best "European Hip Hop Act" at the "2010 Urban Music Awards".They are blazing new trails in merging genres in electronic music and their influence is acknowledged.They have supported artists on tour such as,Amy Winehouse,Snoop Lion,De La Soul,and Public Enemy.
Foreign Beggars Website                                                                           Foreign Beggars Youtube