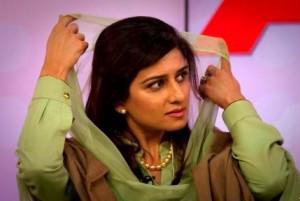 Pakistan's dashing foreign minister Hina Rabbani Khar has denied having affair with Bilawal Bhutto Zardari. Bilawal is the only son of Asif Ali Zardari and is co-chairperson of ruling Pakistan People's Party. A Bangladeshi Tabloid Blitz Weekly broke news about their alleged marriage plans. Glamorous Hina Rabbani Khar, who is married and mother of two has declared these allegations as trash and baseless. The alleged scandal fueled excited gossip and anger in Pakistan.
The tabloid cited sources in Foreign Intelligence agency as source of the news and claimed that President Asif Ali Zardari is aware of all this. President is opposing the relationship while the son wants to make it at any cost.
Hina Rabbani Khar facilitated UN working group visit
Senior leader in the PPP has linked the scandal with visit of UN working group on enforced and involuntary disappearances. Hina Rabbani Khar is believed to have facilitated the visit which was disliked by powerful ISI. PPP leaders believe that Inter-Service Intelligence (ISI) is trying to malign the foreign the foreign minister. UN mission has pointed fingers at security agencies.
There has been no comment from Bilawal Bhutto side regarding the controversy.
Hina Rabbani Khar belongs to famous Khar Dynasty of Punjab. She has served as state minister of Finance during Musharraf regime as well. She contested and won 2008 general elections on PPP ticket. Prior to assuming responsibility as foreign minister she has served as Finance Minister during current setup as well.
Hina Rabbani Khar, who graduated from MIT, is best known for her elegant and lavish lifestyle. During her visit to India last year he remained in the news due to her jewelry, clothing and designer bags. Many in Pakistan believe that there is something in the scandal and cannot be totally fabricated. Her millionaire husband Firoz Gulzar also rubbished the scandal but refused to comment on questions relating to divorce.