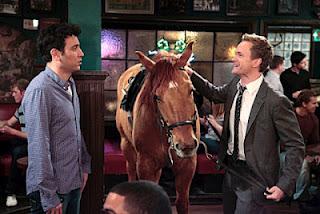 Original Air Date
: 16 April 2012
Storyline: 
Just as Ted starts to settle into his new apartment alone, Barney tries to entice him into going out every single night. Meanwhile, Lily has a naughty dream about someone other then Marshall, and Robin finally becomes a famous news anchor.
Trivia:
The shot of Robin as a guest on The Late Show with David Letterman was a shot of a real episode when Cobie Smulders was a guest.
Best quote:
Barney
: The truth is I've spent the last five years trying to inception your wife. 
Marshall
: That movie only came out two years ago. 
Barney
: What movie?

The "legen... wait for it... dary": Tonight is going to be legen... it's the night we stole a camel... which means it'll be full of drama... dary. Dromedary!

The Challenge: Here's the challenge. Get a girl's phone number while you're wearing a dress.

The Review: When did this show suddenly start to get good again? It looks like this season ending might actually be memorable in a good way, as opposed to the soap-opera it was when it began. Yes, we still have some useless drama, like everything that's been going on between Ted and Robin (again!), but comedy is back and that can only make me happy.
This week's episode puts Ted and Barney together in a contest about who has the most points on the board. What kind of points, you ask? Well, apparently being the fist one to band Robin earned Ted 6000 of them, while Barney won a lot of points by having the longest name, living at the highest floor and, oh yeah, doing a stripper. Which is also the only thing he can think of these days.
So is it a good thing? As much as he likes to brag about his girlfriend's exciting job, Barney can only think of one thing between 9 pm and 4 am: what is Quinn doing and with whom, so, in order to take his mind off of it, he drags Ted out in a series of legendary nights, just like in the old times. Something that reminded me of season 1 and the fun we all had with Barney and his crazy ideas.
But no matter how legendary bringing a horse into the bar or starting a mariachi band might be, nothing can compare to Robin landing a helicopter safely and saving the life of the pilot, who had had a stroke in midair. It's always been fun to follow Robin on her way to celebrity over the years, from falling in horse poop to doing a crappy TV show in Japan. Apparently all she needed was a traffic gig to start being recognized by people, but the question is, will this really be the breakthrough she has been waiting for, or is it just a temporary situation?
Meanwhile, scoring the prize for the funniest arc of the week was Lily's dirty dream about... well... Ranjit! I've heard of pregnant women going crazy, but this is beyond nuts! Well, not so nuts as having a sexual dream about Frankenstein and the teacup from Beauty and the Beast! I honestly expected Marshall to react more violently, especially since we know that he can't have a sexual fantasy with another woman without killing off Lily (or at least remind her of that!), but his running around with the color samples to test his wife's vermilion face every time they met with someone she could have fantasized about was hilarious enough.
Among the highlights of this week's installment, I'll also mention the return of Ranjit (always funny) and Sandy Rivers (is Alexis making sure his wife doesn't endanger their unborn baby while running around the HIMYM set?) and Barney's "piphany" of making every night legendary. Oh yeah, and I love Ted's new apartment, I've always wanted to live in a duplex.
Back to Season 7