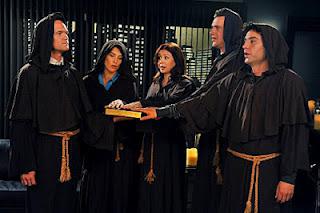 Original Air Date
: 19 March 2012
Storyline: 
The gang tries to break up Barney and Quinn after learning they plan on moving in together, leaving Robin and Ted to fight over who deserves to sublet her apartment.
Best quote:
Lily
: I was once with a dude who couldn't even fantasize about a three-way. He was all, ooh she's your best friend!
Robin
: What now?

The Pick-up Method: Not the mother: The "legen... wait for it... dary": The Five: Fine I'll fill her in and I am so angry I am not even going to make a joke about filling her in, which I did three times last night. Self five!

The Suit-Up: 

The Challenge: The Rule: The Ted Mosby:  The Statistic: 
The "You've been lawyered": The True Story:The Review: HIMYM 7x18: Karma
Back to Season 7
HIMYM 7x20: Trilogy Time