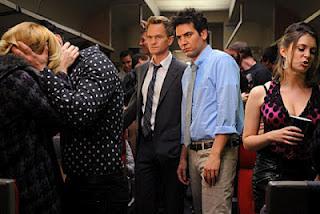 Original Air Date
: 13 February 2012
Storyline: 
Kevin proposes to Robin, but will he take it back when Robin tells him she can't have children? Meanwhile, Barney and Ted try to score on the "drunk train" to Long Island, but something is surprisingly holding Barney back.
Best quote:
Barney
: Where has this heavenly vehicle been all my life? Can you hear it's inspiring chant Ted? I think I can get laid, I think I can get laid, it's the little engine with wood!
The Pick-up Method:
Not the mother: Robin
The "legen... wait for it... dary":
Ted, tonight is gonna be Epic- wait for it...Dary! Wait that's not it, how do I usually say it? Ugh I hate this Quinn girl!