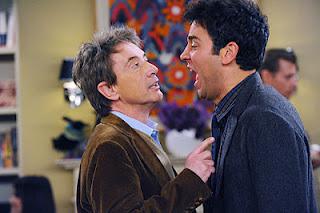 Original Air Date: 6 February 2012

Storyline: Lily and Marshall throw a housewarming party, where Ted nearly comes to blows with Marshall's boss, and Barney hits on a crazy divorcee.Best quote:  
Marshall: Come on, lay some of that classic Scherbatsky mean son of a bitch on me. Treat me like I'm a girl scout trying to sell you cookies.Robin: Four dollars a box and you're out of thin mints?! You green little...I don't do that!

The Review: Is this show ever going to be fun again? I keep watching waiting for it to happen, but these days it doesn't even make me smile, I'm not even talking about hysterical laughs, like during the first seasons. I don't know if it's Lily's pregnancy that ruined the fun of it, or Barney's out of character behavior for the biggest part of the time, or the storylines that don't go anywhere and are just fillers until that damn Eriksen baby is born or until Robin and Barney hook up... but I feel it's lost its way and were it not for my actual desire to see who the mother is, I would have stopped watching a long time ago.
This episode was no different, although it had some cute funny-ish moments. But overall, it was as dull as plain water. Or fill it in with your idea of the dullest thing on earth.
For starters, I'm getting tired of Lily's father. Chris Elliott was fun when he was scarce, but the more he pops into the screen, the more annoying I find him. I don't see the need to make him a regular character when you already have six people to fill 20 minutes with and he's not bringing anything interesting to the scene either. His bee story would have been better if it would have tapped into one of Marshall's irrational fears, but this wasn't the case and I simply didn't care for it.
The main storyline - Lily's housewarming party - lacked originality; the only thing I liked about it was Ted's presentation skills, but that didn't make the episode better, only barely acceptable. The parallel between her having to avert every crisis that occurred during the party and parenthood could have been explored more in depth, but unfortunately it was only briefly referred to and then dropped, like every reasonably good arc this season.
Instead, we got to witness a useless fight between Robin and Ted about being nice versus being a total bitch - which Robin is most of the time, and annoyingly so, a fight which, similar to Lily's short termed realization, didn't go anywhere. Ted could have at least punched Cootes in the nose. 
The only slightly fun plot was Barney sleeping with Lily and Marshall's divorced neighbor and his "every penis is a girl" speech to Robin. I even laughed at him choosing the house full of bees to spending the night with the homicidal divorcee.
I still hope things will get back on track, especially where it comes to the mother. I know a lot of people are happy that the show took a break from Ted's search for the one, but this was the main reason I watched
HIMYM
and I'm pissed things got sidetracked.