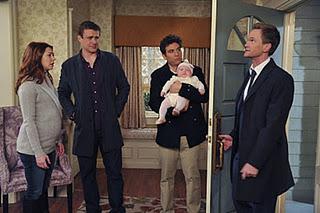 Original Air Date: 21 November 2011

Storyline: Ted and Barney, who decide they hate women now, consider the pros and cons of raising a baby together. Meanwhile, Robin hopes to dissuade Marshall and Lily from moving to Long Island.Best quote:  
Barney: You know what would kick ass?
Ted: Being gay?
Barney: Being gay!
 The Five:
But when your bro-parent walks in on you banging a hot flight attendant... You get five of these bad boys, right up high!

The Review: How I Met Your Mother is testing my nerves. It's going from a really bad episode to a very good one and I am confused as to whether to keep watching it or not. Sometimes you get a glimpse from what this show used to be like - fun, perfect for a Monday night when all you think about is the weekend that just passed, and sometimes it just throws a bitter pill like making Robin pregnant.
Yes, she is! Annoying? Definitely. But more than anything, useless and a very bad way to end an episode that was, overall, entertaining. I say useless because I only see two possibilities for Robin at this point: either she miscarries or she decides to have an abortion. Anything else - having the baby, that is - would be completely out of character. Not only out of Robin's character, but also the show's. Feel free to disagree with me, oh ye Robin fans. But I can barely get over Barney getting married before Ted, and now to have Robin, who never wanted to have kids, get pregnant before he got a chance to start a family as well? The HIMYM universe definitely makes the wrong choices here and trying to tie up all the other characters' stories before Ted gets to fulfill his destiny just seems wrong to me.
But let me try to forget about the last 2 minutes and concentrate on the actual fun part instead of the soap opera drama. The episode was split into two main plots, both focusing on "moving on" into adulthood. Parenting seems to be a hot topic with HIMYM nowadays, and it's not just because of Lily's pregnancy. Disappointed by the women in their lives, Ted and Barney do something crazy: register for adoption as a non-gay guy couple, thinking they could raise a child without the involvement of a woman. After all, Barney has the example of his brother, who not only adopted one, but two kids with his gay husband. Not to mention that Neil Patrick Harris has his real life experience of being a dad with his partner, David Burtka.
Watching the two banter about pet cobras, whether Ted will keep his job after they get the baby or the house they will live in was just like old times. Despite his depression over Robin's decision and the unlikely possibility of his biological clock ticking (at least Friends, despite the awfulness of the last couple of seasons, didn't reinvent Joey's character), Barney was more like himself than he ever was this season.
I thoroughly appreciated, among all the other funny stuff, the return of some of the things that made us laugh over the years: Barney talking like a little boy, his competition with Marshall over who will be Ted's first choice if they were all gay, Marshall letting the universe make decisions for him and Robin trying yet again to persuade Lily and Marshall to stay in New York rather than moving to the suburbs. Ernie Hudson's cameo, as well as Marshall's top choices regarding the house they inherited from Lily's grandparents, reminded me of the fun careless guy he was before he got his wife pregnant.
All in all, a decent episode that reminded me of the good times when I couldn't wait for Monday night to come so that I could watch this show. It's too bad though that such moments are so rare nowadays.