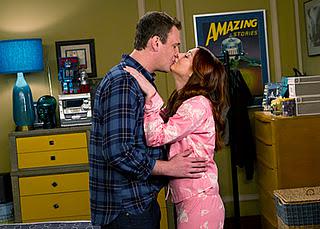 Original Air Date
: 24 October 2011
Storyline: The gang begins to realize their romantic partner reminds them of one of their parents. Meanwhile, Barney and Nora's planned romantic evening is ruined by a string of bad events.
Trivia: When the gang mocks Ted's story about giving Weird Al Yankovic the idea for "Like a Surgeon", he tell them all, "you can eat it… just eat it," borrowing lyrics from his "Beat It" parody, "Eat It".
Best quote:
James
: The Pork Authority is closed. Looks like it's Hand Central Station for you, little buddy.
Not the mother: Weird Al fan
The Ted Mosby:
Have you seen Die Hard? Okay, the guy who played Argyle produced this documentary about coin collecting.

The Review: Leave it to HIMYM to touch on psychological theories and make an entire episode based on them. And I'm guessing Kevin's character is also a strong reason for all this couples therapy going on. I'm also betting he will be the one to eventually succeed in making a point out if the dysfunctional relationship between Robin, Ted and Barney, something Victoria tried, but failed to do.
The main point this episode is making is that people often find a romantic partner that resembles one of their parents' - usually, the opposite sex one, though in Marshall's case, the situation is reversed. Though, let's face it, it's a cliché, I welcomed the return of Chris Elliott, Frances Conroy, Cristine Rose and Bill Fagerbakke in their roles as the characters' parents and the funniest moments were the ones involving Lily and Marshall's dads. But ultimately it was Barney who solved the "Nora is my mom" problem quite easily - "I turned... it... around" - going along with his date night's theme and reminding us that, despite being in a cutesy nauseating unnatural relationship, deep inside he's still the same person. That is a relief, seeing how I really really miss his old self and his most boring moments were when he was either with Robin or now with Nora, which is why I don't understand the reason behind getting him married before Ted.
I wasn't particularly amused by Barney and Nora's date night - I'm not a fan of situation comedy at this extent - but kudos to her for still being able to "shag" after losing a tooth, having a rat make her its bitch and witnessing a suicide. 
For the first time, I actually liked Kevin. It took a few episodes for Kal Penn to get the rhythm of this show, but he was actually funny when he tried his best to understand the dynamics inside the group and especially between Robin and Ted.
Being the nerd that I am, the episode hit close to home with the endless movie references, from Marshall's Jaws one to Barney's "Pork Authority" to the Julie Andrews impressions and the rat reminiscent of Ratatouille's Linguini. The Weird Al has some unpleasant memories attached to it for me, but I still found Ted's enthusiasm hilarious.
HIMYM 7x06: Mystery vs. History
Back to Season 7