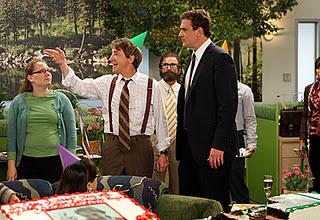 Original Air Date
: 10 October 2011
Storyline: When Marshall witnesses his boss's soft approach in settling with a million dollar company, he takes matters into his own hands. Meanwhile, Ted takes his architecture class on a field trip and things don't go as planned, while Barney and Robin both struggle with their romantic lives.
Best quote:
Barney
: So you're the therapist. You know it's one thing to pretend to be a therapist and bang your patients, that's normal, but to do it for real? Little creepy, bro.
The Ted Mosby:
Webster's defines "inspiration" as... Hold on. It's still loading.
The Statistic: 
Studies show that 83% of all college students desperately need, Sex Lessons!

The Review: This fifth installment of the long-running CBS sitcom follows each character in their own plot line, something not easy to do when you only have 20 minutes to develop the stories.Let's start with Robin and her therapist. They find themselves attracted to each other and start dating, despite everyone saying it's creepy to date your shrink. After a romantic diner scene, their story got really old really quick. I'm not sold on Kal Penn in this role; despite his Harold & Kumar movies success, I simply don't see him as a comedy actor. There's also no chemistry between Kevin and Robin, so it's hard to buy that they are attracted to each other.
Ted takes his Intro to Architecture class on a field trip, despite the reason for most students to take an Intro class is "to get on any other path but the path to not being hungover anymore". Things go wrong when he finds out that he can't show them the construction site for the GNB building, although it's technically his building, but he and Barney figure out soon enough that they couldn't have found a better focus group for all the debates they's had over the years. By far, the funniest one was the Edward vs. Jacob debate, especially when reiterated at the end of the episode.
Speaking of Barney, after hearing that Nora hates the Ewoks, he figures that she's not 29, but at least 37 years old, because "ultimately, Ewoks split Star Wars fandom into two camps: those born before, and those born after May 25, 1973", making the ones born after 1973 liking them because they compared them to their teddies. While I still like it that Barney keeps rocking the ducky tie, I miss his old, normal self: this new boyfriend-y act doesn't suit Stinson and I'll protest it until it will be too late.
As for Marshall's arc, I'm excited for the character development. He's not been the best when dealing with difficult bosses before, but I respected his balls when he confronted the most famous environmental lawyer in the world about his soft approach in a settlement case. 
Some of the highlights: Barney's Ewok presentation, having nicknames for Ted's students and even knowing Gina and Will's mother. Robin throwing Kevin off his game with the question about his mother. (And yes, dating your gynecologist is weird too!) Marshall's reiteration of the fish jokes (carp, right?).
HIMYM 7x04: The Stinson Missile Crisis
Back to Season 7