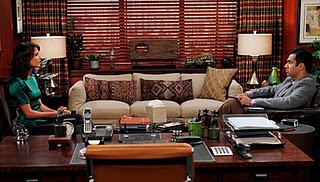 Original Air Date
: 3 October 2011
Storyline: Robin is attending court mandated therapy sessions stemming from an incident where she assaulted another woman. The assault had something to do with her feelings for Barney, and not being able to deal emotionally with watching Barney court Nora. Ted inserts himself into Lily's pregnancy, as he has always seen himself, Marshall and Lily as an unbreakable threesome, but the mother to be doesn't see his intrusion with good eyes.
Trivia: Both the StinsonBreastReduction.com and LinsonBreastLawsuit.com websites, whose URLs were shown in Barney's TV ads, were made by production staff for actual viewing by fans of the show.
Best quote:
Robin
: What's that thing?
Barney
: For some it was the ashes of my parents. For others it was the trophy from Wimbledon and believe it or not, for one busty dullard, it was both. Game, enormous set and match!
The Pick-up Method: The BDSes - Bimbo Delivery Systems

The Review: I wasn't extremely crazy about this episode. Mainly because I'm not crazy about the Robin/Barney story, as I find them annoying and unfit as a couple. Also, this episode marked probably the death of Barney as the character that made us laugh for six seasons, and the new, lovey-dovey Barney, is simply too boring to engage my attention. On the plus side, some of his BDSes were extremely hilarious and I'm trying to remember another play that made me laugh as much as his Jack Fantastic act - not only did he rocked that toupee and Southern accent, but he took time to learn how to cut hair! And he still rocks the ducky tie, no matter what people say.
I was disappointed by how things with Robin went down. We've been teased all summer about her assaulting some woman and having to go to court mandated therapy sessions and I've had high hopes regarding this - though I should have known that nothing besides Robin Sparkles could make this character funny anymore. But the way it was presented didn't satisfy my expectations, and I think a lot of that was because of Kal Penn's apparent inability to be funny. I don't see the added value of his character to the show, most of his lines felt out of place.
I wasn't too excited about the Ted/Lily/Marshall threesome either. Except for the final moments, with the Halloween costumes, I just found everything weird and annoying. First of all, no pregnant woman would listen to the advice of a doctor who probably doesn't understand your questions very well but tells you that drinking alcohol is not bad for the baby. Also, as much as I love Ted, getting so involved in Lily's pregnancy was just weird. I get that he feels left out and he's the kind of guy who takes everything personally, but this show is trying too hard to make him look like a douche. Nevertheless, Marshall's expression when telling Ted "I believe in you. I honor your body's wisdom." was priceless.
I don't really like the direction this show is taking. Getting rid of Barney as we know him is not a good idea and will remove much of the humor, and making Robin look so out of character is simply annoying. 
Back to Season 7