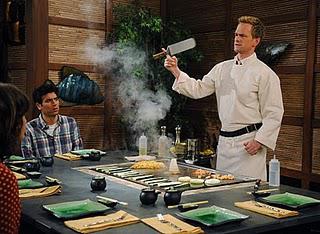 Original Air Date
: 26 September 2011
Storyline: After Ted runs into Victoria, his old girlfriend, he tries to make amends with her since he cheated on her with Robin. Meanwhile, Marshall and Lily make a bet with Barney that could force him to wear Marshall's ducky tie.
Best quote:
Ted
: Guess who I ran into? A girl from my past. Any guesses?
Lily
: Stella?
Barney
: Zoey?
Marshall
: Karen?
Lily
: The girl who beat you up?
Barney
: The girl in a photo with Slash?
Marshall
: The girl that made you get the butterfly tattoo?
Ted
: You guys make it sound like I've dated a series of Steig Larsson novels.
Not the mother: Victoria

The Review: As promised, Ted tells the story of the ducky tie, while relating to the gang the events that took place after his encounter with his old flame, Victoria. The episode was extremely hilarious. I loved how Ted kept being interrupted by Lily's pregnancy boobs and the bet Barney made with her.   
Leave it to Barney to put in motion a devious plan involving sneezing, Marshall's favorite restaurant and taking cooking lessons only to be able to touch Lily's breasts. For years he used Pavlov's conditioning on Marshall only to have it all pay off now that his wife is pregnant and she has something that he desperately wants. The Twitter jokes he threw in were very amusing as well.
I couldn't help but laugh out loud when Marshall jumped so willingly into making the bet involving his wife's cans only to have Lily up the stakes even higher: making Barney wear Marshall's ducky tie for an entire year is probably the best punishment her devious mind could have thought about. So does this mean now that we have to watch Stinson in that tie for the rest of the season?  No wonder he ends up getting married, probably Robin is the only woman who still finds him attractive.
As for Ted's encounter with Victoria, it was an eye-opener, hopefully. She's getting married with the guy she met in Germany six years ago, while he went through "
a series of Steig Larsson novels"
and is nowhere near finding the one. I loved her
"I invited you into a porno!"
realization after they kissed, hanging out with an ex you had feelings for can do that to you. And I agree with her - it is weird to spend so much time with a former girl/boyfriend (but I don't know if it's what screwed up Ted's romantic life, though it is what screwed up Barney and Robin's). As for Victoria's theory, I'm just putting another piece to the "who marries Barney" puzzle and say that Robin is that one, as much as it pains me.
Back to Season 7