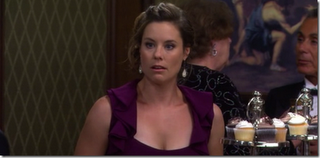 Original Air Date
: 19 September 2011
Storyline: When Marshall gets an offer for the job of his dreams, he worries that, once the company discovers videos he made in the past, they may change their mind. Meanwhile, Ted can't decide who to bring to the Architects Ball, as his recent success, which put him on a magazine cover, also got him a couple of dates. Barney is trying to impress Nora, but his efforst might have the reverse effect.
Trivia: When Marshall finds his "You can call me Beercules" video on the Internet, the subsequent video made following his later visit to his old friend Peter is already shown in "Other Views".
The name of the drinking game "Edward 40 Hands" is a play on the name of Tim Burton's 1990 film Edward Scissorhands.
Best quote:
Lily
: Wait a minute. You're going to date two girls at once? Don't you think you should just choose one before it gets serious? 
Ted
: Define serious.
Lily
: Well that's complicated. I guess you have to weigh expectations, emotional investments...
Marshall
: Third base. Serious at third base.
Ted
: So I can go to second base with both of these girls, no problem?
Marshall
: Oh, honk away, my friend. Yeah, honk away.

The Pick-up Method: There's no time to explain how I got bit there. I just need someone to suck the poison out.The surgeons gave me a new face, honey. Aren't you relieved I'm alive?
Me llamo David Beckham.
If I were only casting the White Swan, the role would be yours.
No, I am a lesbian. This thing that I'm wearing is just really lifelike.

Not the mother: VictoriaThe Review: The hour-long season premiere of How I Met Your Mother continued with the second episode, and it was another legendary one. I'm so glad to see this show still has sparkle, after six seasons. From Ted's dates to the Beercules, from Barney's moon snake to Robin trusting that Ted really knows the right Lenny Kravitz, it was a hell of a ride for a 20-minutes installment. And it all ended with a surprise I never saw coming, but secretly hoped to see happening at some point.Jimmi Simpson and Martin Short guest star in this episode as Marshall's old college friend, Peter Durkenson, and his new boss, Garrison Cootes. I loved them both as they were both kind of creepy, but hilarious in their own way. And not to brag, but Durkenson being a surgeon was something I totally saw coming.
As Marshall starting out with his "sweeping declaration" that he will never drink again, after finding out what he had done at Punchy's wedding, paired up with receiving a call from Cootes telling him they need to do a background check before hiring him, I just knew where this plot will go. Discovering that the "Beercules" video he had made in college was online for anyone to find, and then chasing down Durkenson to ask him to take it down, only to end up doing it all again was hilarious. There are some things I don't like about Marshall, but his goofy self is not one of those.
As for Ted, receiving an invitation to the prestigious Architects' Ball - the annual gala that honors the city's greatest architects - was reason enough to take out his legal pad and colored pens and make a pro-con and chart to decide which of the two women he was dating he was going to take as his date. This was a starter for some funny moments, like Robin's "if only architects had two balls" and Lily slapping him after making him chose - she's always great that way. And, as in the HIMYM universe, destiny plays an important part, taking Robin to the ball was just the thing to do in order to meet... Victoria, the cupcake lady whom he dated then almost cheated on with Robin back in season 1. Great surprise for this beginning of the season!
Going back to Robin, she was amazing in her black dress that she for for Ted's uncle's funeral which was cancelled because he woke up from the coma, but did she really think the Lenny Kravitz Ted was talking about was the same one she (and I) mind-dated on and off through high-school? Oh, Robin, don't you know Ted by now?
In the meantime, Nora agreed to go out with Barney, so he plans impressing her by showing up with a neck brace, only to find out that women don't like to be lied to - duh! She's amazing enough to make Barney be the one to beg for once, and making him tell her all the lies he had ever said to women in order to get them to sleep with him led to a hilarious confession about moon snakes, David Beckham and The Black Swan. And for once, Barney was the one who made Ted realize what he wanted in life.
So, where will the Barney/Nora and Ted/Victoria relationships go to? And is "Bow down to Beercules!" Marshall's most hilarious line yet? 
HIMYM 7x01: The Best Man
Back to Season 7