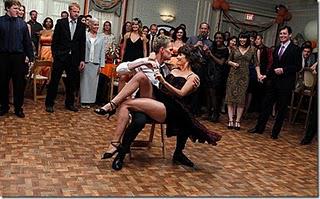 Original Air Date
: 19 September 2011
Storyline: While Barney prepares for his wedding to a mystery bride, he and Ted reminisce about Punchy's wedding, including when Marshall and Lily announced they were having a baby. Meanwhile, Robin considers telling Barney she has feelings for him, but he cant stop thinking about Nora.
Best quote:
Marshall
: Baby, I can't take it anymore. I've gotta tell somebody that we're pregnant.
Lily
: Eriksen, stay strong. We're keeping this secret.
Marshall
: There's babies everywhere. It's like a minefield of cuteness. Look at this little bastard. 
Lily
: Marshall, stop it. Stay strong. You can't let holding some, some little baby... oh, with the cute little cheeks and the... the little arms and little legs... This sonofabitch has knee dimples! Let's go tell everyone I'm pregnant!
The Pick-up Method: For example, tonight marks the inaugural flight of the escaped manslaughterer.Escaped manslaughterers - not sexy. Although in hindsight, that was kind of a flawed concept. Next up, patient zero. 

The Statistic: You see, my legendary success rate of 83%... doesn't happen by accident. Every single play I run on women has been meticulously field-tested.The Review: Hold on tight, everyone, cause How I Met Your Mother is back! We've been waiting all summer to find out what's up with Barney, Robin and Nora, and we've just started. As spoiled during the hiatus, the season premiere depicts two weddings: Barney's and Punchy's, Ted being the best man for both.
While Ted convinces Barney he picked the right tie... hmm... woman to marry, they recall Punchy's wedding, which Marshall had screwed up big time.
This was a great season premiere. It had a lot of funny moments, but balanced things out with some emotional ones as well. The ones between Ted and Barney and Ted and Robin were great. Ted is an amazing best man, he may be wrong at many things, but that's actually something he is great at. And when Lily walked in saying that the bride needs to see Ted, was there any doubt left that Barney is marrying Robin? Robin had asked Ted to be her best man and I doubt Ted would be so close to any other woman Barney could marry. It's a bummer, really, I hated Barney and Robin together and I can't see how they could make it work the second time around, but TV shows don't always go the way I want them to, so I guess I need to get used to that.
I must say the dancing act was epic. Yes, they could have given Robin some better dancing shoes, as someone quite familiar with the dancing business, I have to say they were quite dull. But there were some great moves there and I loved every second of it. Nora calling Barney just when Robin was about to confess her feelings for him - which, in a way, she did while telling him what to say to Nora - was a welcome interruption, if they have to out these two together, let them at least fight a few obstacles in the process.
Marshall and Lily trying to keep the secret of their pregnancy from the gang was fun to watch. You just knew Marshall would be thrown into "a minefield of cuteness" and wouldn't be able to hold it together.
I also loved Ted's meltdowns during the speeches - that was completely in character for him. He's definitely the kind of guy who cries at weddings, much like me in that aspect. And what about his not believing in destiny anymore? I have seen this happening little by little ever since Stella, but it's the first time he has the guts to admit that he has lost his way for a while there.
Great premiere for what will be a season of growing for Barney and Robin, as the producers teased already. I just hope they don't forget about Ted, with all that's going on, cause he is the main character of this show.
HIMYM 6x24: Challenge Accepted
Back to Season 7