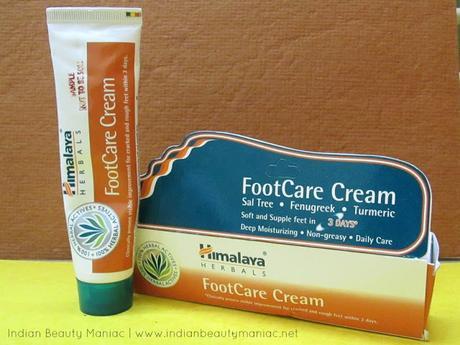 Himalaya Herbals Foot Care Cream - Review
After my wedding, I did quite a bit of traveling. Almost every weekend I had to visit someone's place. All these frequent traveling and stress did not go well with me and I ended up having extremely dry feet with slight symptoms of cracked feet. I am someone who boasts of having perfectly groomed feet. I ensure that I treat them well i.e., wearing shoes that completely cover my feet while driving, getting periodic pedicures, using body butter every time I get a hot shower etc so when I saw how my feet looked I was far from happy!
This Foot care cream from Himalaya Herbals caught my fancy and considering my happy experience with their Neem Skin care range, I gave it a go. The cream comes in a standard packing. Nothing fancy about it. The cream has thick consistency and looks more like those sandalwood based creams. The ingredients list sounds quite impressive with Sal Tree, Fenugreek, honey and Turmeric extracts. Read more about the ingredients here.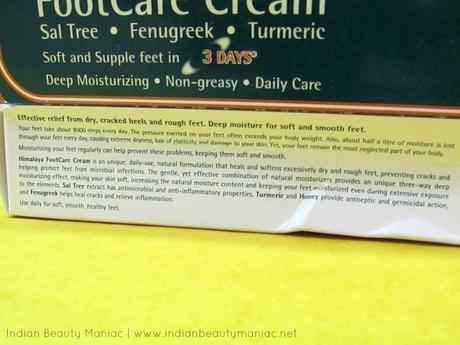 Himalaya Herbals Foot Care Cream - About the product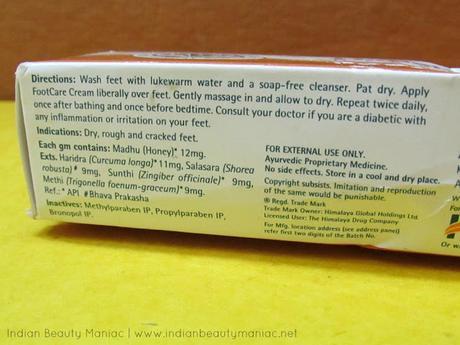 Himalaya Herbals Foot Care Cream - Directions for use
I apply the cream before bed as directed by them. I don't use it twice a day though. The cream gets absorbed in a jiffy and once absorbed imparts a soothing and soft feel to the feet. Sal tree is known for its skin healing properties and after about a week of regular usage I did notice some positive changes in my feet. The skin started looking brighter and more nourished. I started wearing fully covered shoes again to retain the effect and yes I am happy with the way this cream has transformed my feet! Coming to the claim of healing cracked feet, the cream did help heal the mild newly formed small cracks on the heel of my feet. However I am not sure of its efficacy in completely curing heavily cracked feet within 3 days as it claims. It is okay for mild cracks and dryness. For that matter, I haven't come across any over the counter creams that magically transforms cracked feet.Swatch: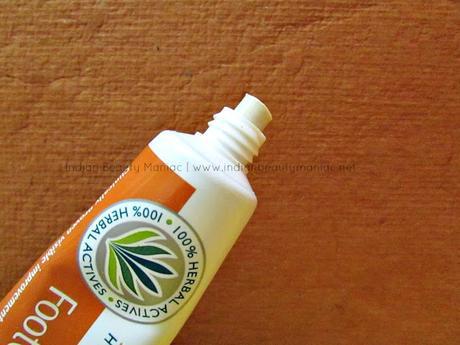 Himalaya Herbals Foot Care Cream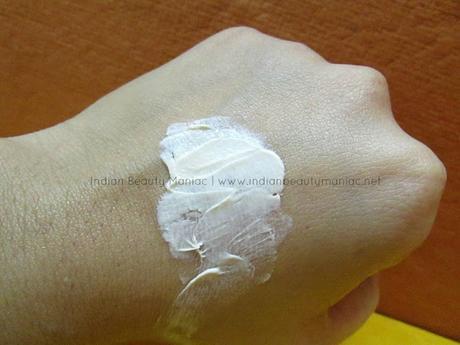 Himalaya Herbals Foot Care Cream - Swatch
My observations
Affordable
Functional packing
Widely and easily available
Impressive ingredients list
Makes my feet soft and bright with continuous usage
Non-Greasy
Fragrance is quite heavy but gets neutralized once the product is applied on the feet
Treats dryness and mild cracks well.
Not sure if it would be sufficient for treating heavily cracked feet
Priced at Rs. 110/- for 50g tube, this cream is definitely worth a try! 
*product was sent by the brand for consideration.