Years ago in San Francisco I met a woman, Naomi, who'd just returned from a seven-month hike of the entire Appalachian Trail. We were in Gimme Shoes, a fantastic and wildly overpriced boutique on Fillmore Street. She was aghast at the prices. Oh honey, I told her, there are only two things in life you can't fake: good hair and good shoes.
This was a natural segue into hiking boots.
If you're going to wear only one pair of shoes for seven months, you had better love those shoes. But finding the perfect blend of cute and highly functional, weatherproof, comfortable, sturdy and supportive, can be challenging. That's why the fact that my beloved hiking boots are being held hostage in a locker in Mysore, India, is particularly distressing to me. I left my boots, along with my favorite fleece pullover, an adorable black wool wrap sweater, four novels, a pressure cooker, French press, two notebooks and a CD of Yoga Sutra chants with my former landlord in Mysore. I had every intention of returning for them. But life took some unexpected twists.
Life is like a long distance hike. You start out thinking you're going somewhere specific and you set a timetable for getting there. And then you run into all kinds of twists and switchbacks and maybe you eventually reach your destination. And maybe you don't.
Naomi set out from Springer Mountain in Georgia in April and reached Katahdin, Maine in November. She's one of the rare hikers to traverse the entire Appalachian Trail. Each year the Appalachian Trail attracts thousands of hikers, many of whom, like Naomi, set out with a goal of traveling the entire route. Eighty percent fail. A mere 500 or so hikers are able to complete the arduous trek. Some do so in as little as five months.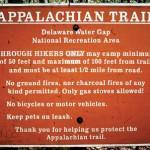 Winding 2,178 miles through 14 states, from the summit of Maine's Mount Katahdin to the top of Springer Mountain in Georgia, the Appalachian National Scenic Trail is the longest footpath in the U.S. With a highest point of 6,625 feet in Tennessee and a nadir of 124 feet in New York, the Trail ranges from deep forested wilderness to strenuous mountain hiking above the tree line and rambles through quintessential American towns.
As a pilgrimage, the Appalachian Trail has no American rival. Dozens of books about nature, fellowship and self-discovery have been written by those who've trekked the Trail.
Blazing through Northeastern Pennsylvania's Pocono Mountains, the Appalachian Trail creates some of the most spectacular sights in the state, including the Delaware Water Gap. Geologically, the Water Gap, which lies on the border between Pennsylvania and New Jersey, is the point where the Delaware River cuts through a large ridge of the Appalachians. Part of the National Parks system, the Water Gap offers outdoor enthusiasts a wide range of activities, including rafting, swimming, fishing, bird watching, camping, horseback riding and rock climbing, and the comfort and culture of the eponymous town of Delaware Water Gap.
A haven for artists, musicians and writers, Delaware Water Gap, the town, is graced with quaint bed and breakfasts and country inns. Founders Day is celebrated on June 30 and each September the town hosts Celebration of the Arts, which brings together musicians, dancers, poets and filmmakers for a three-day artistic feast. Year-round, internationally renowned jazz musicians perform at the Deer Head Inn on Main Street, the country's oldest jazz club.
I've spent far more time hiking India's Himalayas than the Pocono Mountains of my own backyard. In truth, the Poconos, with a summit of less than one meter, are mere hills. The hill I lived on in San Francisco seems higher to me. Or maybe just loftier. Back when I was packing up those hiking boots in India I could not have imagined that this is where life would lead me. It was not part of my plan. I'm reminded of a Jewish adage: If you want to make God laugh, tell Him your plans.
Planning is great. But it's important to be able to change course gracefully when circumstances warrant. Hold on to your hiking boots—you never know what path your life may take.