Winter Hijab Outfit
Cool wind from the north is already hitting us and in no time, winter will keep us company for many months. It's time to prep up our wardrobe with thick yet trendy winter clothes to keep us warm. with that in mind, it's a great time to inspire another hijab outfit idea.
Hijabis are not to be spared from prepping up what to wear on winter and it's like a double win for hijabis because this time of the year, they don't have to look alien compared to others. If you know what I mean, hijabis always get picked for wearing long outfits even on summer season. But not on winter because everyone else are covering themselves to the point of covering up even their hair. Winter is great and many designer houses are bringing their new collection into the catwalk. You can go from rugged, formal, chic and corporate. It's just a matter of infusing right colors and materials to create a beautiful modest look.
Rugged Winter Look
Here is a hijab outfit idea for a rugged winter look.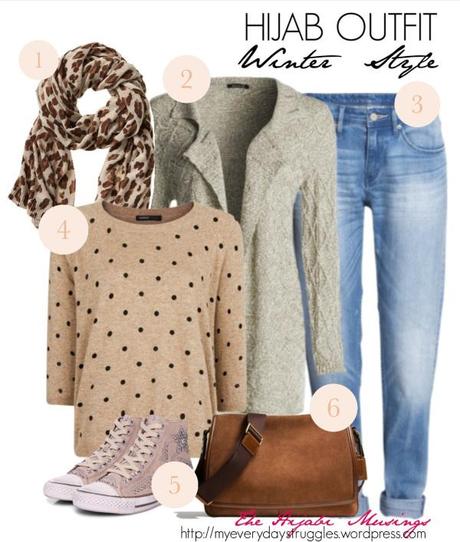 If you like this hijab outfit rugged winter look, you can get the outfit on the link provided.
Banana Republic Leopard Scarf
Mixy Cable Cardigan
H & M Boyfriend Low Jeans
Mango Polka Dot Jumper
Ash Sneaker Vibration Star Nude
Coach Bleecker Courier in Suede
1. A hijabi trademark is her headscarf though it doesn't represent hijab altogether. This beige leopard scarf is perfect for any outfit and compliments the total beige theme winter look.
2. This cardigan can be used open or wrap with belt. The length is perfect to cover the bum for a more modest look.
3. I know most hijabis don't favor wearing jeans but this boyfriend jeans could qualify for a decent modest look because it isn't tight and skinny plus the length of the cardigan worn on top would only reveal the lower part of the jeans. However, if you are the type with big thighs and shins, this jeans might look skinny on you and would be a no to a hijab outfit. You can substitute the jeans with something loose yet comfy.
4. This shirt is adorable. It is perfect to keep you warm on winter with an added stylish polka dot print.
5. This is a very cute sneaker with star studs to add youthful glow to your winter hijab outfit.
6. This suede brown courier bag completes our hijab winter rugged look. The hardware addition to a feminine look adds depth and the contrast made it the more edgy and chic yet still looks modest.
Enjoy Winter with Cool Hijab Outfit
Instead of wrapping yourself in quilts and confine yourself in the fireplace, make yourself productive this winter. Engage in new activities that would entertain and keep you busy this winter. Try your cooking skills by inventing new winter dishes. Keep your winter warm by wearing comfortable, chic hijab-friendly outfit. Remember it would always be better to be kept wrapped and safe against the winter frost in style.
If you like this post and find it beneficial, don't forget to hit the share button. Wanna be updated with what this blog is up to? Follow this blog or subscribe by email to get the latest lifestyle, fashion and beauty tips delivered to your inbox. You can also reach me through these sites…..