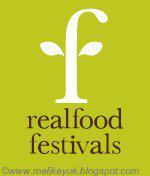 Real Food Festivals Logo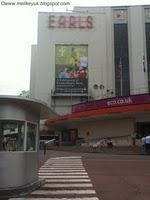 Earl's Court
It virtually never happens, but for the first time last week, I actually won a competition! Can you believe it? Little 'ole me got lucky and was awarded a pair of tickets to the
Real Food Festival
, by the lovely Annie Ko.
Ah, him upstairs must have been smiling down on me!
We decided to go on the last day, Sunday 8 May. After the festival running for 4 years I was delighted to be free that weekend to take in some sumptuous smells and tastes of the terrific produce on display.
We didn't really know where to start so we just let ourselves be transported to where the biggest crowds were gathering. This happened to be at
The Sheep Show
 where a member of the flock was having her coat removed.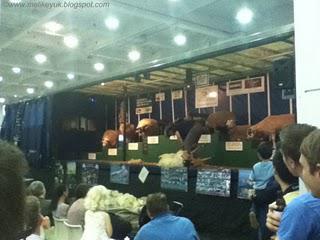 Sheep shearing in progress
Interestingly enough, Richard Savory, the shearer, was explaining that the value of this particular size of coat was only £3 and that it had doubled in value in the last 6 months! Eek! only £3! We were guessing at least £10. It seems there is not much money to be made in this wool especially when labour costs have to be deducted. Nonetheless, it was an entertaining display and the children present were mesmerised.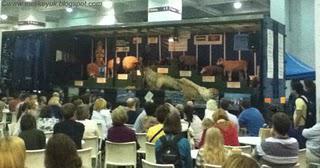 Post Shearing
As our stomachs groaned louder, it was all too clear, we were in desperate need of feeding. We settled on aiming for the delights of Doukan. Recently featured in
Gordon Ramsay's F-word
as a nominee for best local restaurant, Doukan pride themselves in providing top quality Moroccan fare.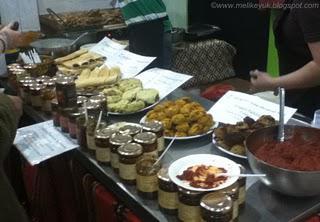 Doukan at the Real Food Festival
They were offering: 
Harissa Chicken Open Wrap, 

(
Chicken marinated in harissa served on an open flatbread with crunchy iceberg lettuce and minted yogurt dressing),
Chicken Bastilla (
Aromatic Moroccan chicken parcels served with figs and an orange blossom compote) Lamb Kofta and Potato Wrap with caramelized onions and a Spinach and Feta cheese for the veggie option.
We were in Marrakech in September and had overloaded on Pigeon pastilla. Nice as it is, it takes time to acquire the unusual sweet, almond flavour of the meat enveloped in brik pastry, so we opted for the 
Harissa Chicken Open Wrap.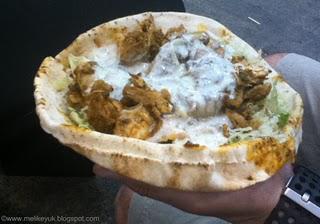 Harissa Chicken Open Wrap

This was a winner! Needless to say, being an open wrap required multiple co-ordination to stop the juices escaping and yes, I did manage to collect some on my skirt, bag and shoes, but all worth the mess to enjoy this Moroccan delicacy. Spicy explosion in the mouth, cooled down with the mint yoghurt dressing.Very filling and a tip top recommendation.
We then took a trip to 
Wales the True Taste
 area where they were cooking Leg of Lamb Steaks with a Rosemary and Lime butter and a Lamb Risotto. They were distributing tasting pots, the lamb was all very succulent. As you can imagine, the main product on show was lamb but they did promote some of the fine dining restos and 
gastropubs in Wales which was worthy of our attention.
While we were digesting this monstrous feast, we walked around the many Cheesemonger stalls. Some of them very mighty impressive, including Mons whose cheese wheels were huge and 
I was intrigued to see that  
La Cave 

à

 Fromage
 were specialising in Cheesy Macarons and were running a Cheese workshop later in the afternoon.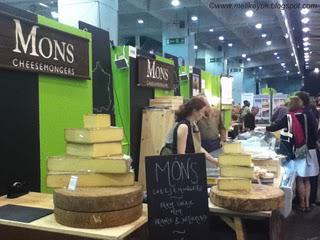 Huge Cheese Wheels on Display at Mons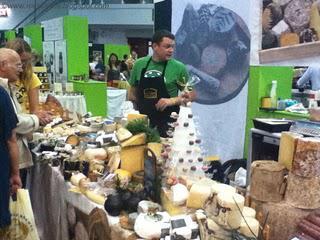 A wide variety of cheese on display at La Cave à Fromage
However in my opinion, as far as cheese discovery goes, the prize goes to Jumi Export. A Swiss cheesemaker who provides a fantastic range of cow's milk cheese; We bought the following: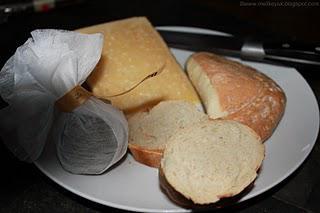 Left to Right: Belp Knoller ,Cironé and Abe Rot  
Cironé - A 24 month old hard cheese. A cross between Emmental and Parmesan with salt crystals and an after taste of alcohol, almost like a cognac.

Abe rot or "Evening Red" - A strong smelling, soft, washed rind cheese. Similar to 

Epoisses or  Munster
Belper Knolle - Made from milk from Belp cows, locally grown garlic and Himalyan salt. Rolled into balls and dipped in pepper. It has truffle-like qualities insofar as just a light sprinkle of it grated over pasta or risotto is sufficient to benefit from the powerful taste.
Just to add to the cheese purchases, we also bought a garlic infused dry cured beef sausage called Track from the stand. Yummy!
It was time for sweeter things and we had a look at the options, what stood out for me was
The Pudding Stop
 who were offering the very seasonal Rhubarb and Orange Sponge topped with toasted flaked almonds, the classic Bakewell Tart and individual Rum Baba's.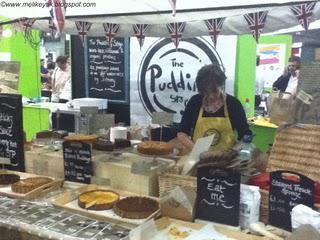 The Pudding Stop at Real Food Festival
I turned to look in the other direction and there it was, simple but beautiful, I had been trapped by it before at the Taste of Christmas Festival and thought "Oh, what the hell, it would be rude not to pay another visit!" When Madonna famously wore the T-shirt with the motto "Italians do it better" she must have been talking about ice cream. Especially when it comes from 
Il Gelato di Ariela
. Rich, creamy and velvety with a fabulous choice in flavours;I chose hazelnut and coconut chocolate, my OH chose cookies and rum and raisin.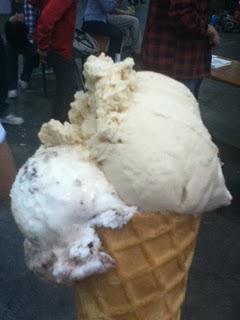 Hazelnut and Coconut and Chocolate Ice Cream.
The photo does not do it justice, but have a pity on a girl who is faced with delicious melting ice cream and photo taking :-)
Another little gem we passed along the way with a wonderful display of cupcakes was the SweetToothFactory. We bought a couple of green tea and oreo cookie cupcakes to take home ( I was beaten to the original oreo cookie cupcake by a 5 year old whose eyes and fingers were glued to it! Ah bless).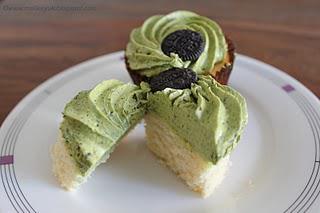 Green Tea and Oreo Cookie Cupcakes
They had a very subtle green tea flavour which was nice. All too often green tea can be quite bitter and strong but this had just the right amount. The sponge itself was delicious; light and fluffy!
I love to nibble on savoury snacks and I passed a stand selling crisps with some very catchy flavour names:
"Devastater"- Hot Chilli,
 "Agitater"- Salt and Vinegar and
 "Gratertater"- Cheddar and Onion.
On further probing The Cornish Crisp Company each flavour promotes and supports worthy causes, whether it be
ShelterBox
 or local community projects in Cornwall.
To take home, we bought two big bags of Agitater and Gratertater Cornish crisps. Made from 100% sunflower oil, they are truly delicious.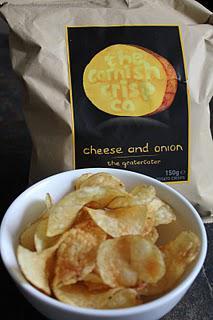 Packed with Flavour: Cornish Crisps
To round off the day, we attended a cooking demo given by the very talented Tristan Welch from
Launceston Place
.It promised to be worthwhile as we had been very impressed on
our last visit
to
Launceston Place
.
Tristan cooked Roasted Scottish Scallops with wild coastline herbs.The coastal herbs included a herb grown in the sea which has the same flavouring qualities as Coriander and an Oyster tasting plant.For the vegetarians present, he cooked a very seasonal Asparagus in the Hole.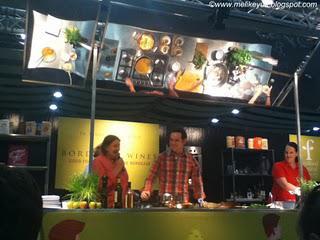 Tristan Welch works his magic at the Real Food Festival
Bordeaux Wines
came on to provide matching wines for the food.They recommended Sauvignon Blanc,
Calvet Prestige Bordeaux Blanc
 to go with the Scallops and a Chateau Doisy Daene Sec to match the Asparagus dish. Sadly, due to "Health and Saftey" they were not able to provide samples of Tristan's food. Blast! But I was able to take the recipes away. So as long as I can find the coastal herbs, I'm all set to recreate Tristan's masterpiece!
All in all, a good day with plenty of top quality food and drink on display to discover,taste and buy.