Highland Park has long been known for their big sherried whiskies that balance out the sweetness with a subtle yet firm layer of peat. With the Highland Park The Dark 17 Years they return to those heavily sherried roots in a dark bold manner. And thanks to their over-done marketing fanfare, I was able to easily approach this skeptically. Stories and wooden boxes and pretty bottlea mean nothing if the whisky inside isn't good.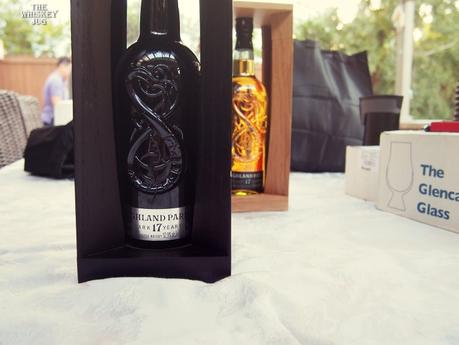 I poured a dram, let it open up a bit while I took some photos for the group and then sat down to let the whisky do the talking. What was truly surprising to me, and several other folks, wasn't just how good this and The Light 17 years were for modern whisky, but how good they were through the lens of what we were tasting that night. In a tasting focused on indie HPs aged 20-25 years with some older OBs peppered in that's no easy feat and they both pulled that off magnificently.
Highland Park The Dark 17 Years Review: Details and Tasting Notes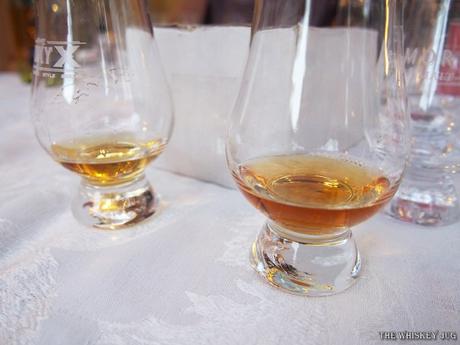 In Highland Park's Words: Highland Park The Dark 17 Years
"In THE DARK – a special release of only 28,000 bottles – we celebrate autumn and winter on Orkney; a time to escape from the wild weather outside and gather together with friends and family, sharing long nights of conversation and laughter around the table, around the fire."
Highland Park The Dark 17 Years price, ABV, age and other details
Region: Highlands, Scotland
Distiller: Highland Park
Mash Bill: 100% Malted Barley
Cask: Sherry Seasoned European Oak
Age: 17 Years
ABV: 52.9%
Cask Strength | Non-Chill Filtered | Natural Color
Price: $220
Highland Park The Dark 17 Years Tasting Notes
EYE
Dark ruby
NOSE
Sherry, nuts, spice, cocoa, nutmeg, char, roasted nuts and peat.
PALATE
Sherry, nuts, dark fruit, spice, cocoa, char, roasted grain and smoke.
FINISH
Long -> Dark fruit, cocoa, spice and char.
BALANCE, BODY & FEEL
Excellent balance, full round body and a heavy oily feel.
Highland Park The Dark 17 Years Review: OVERALL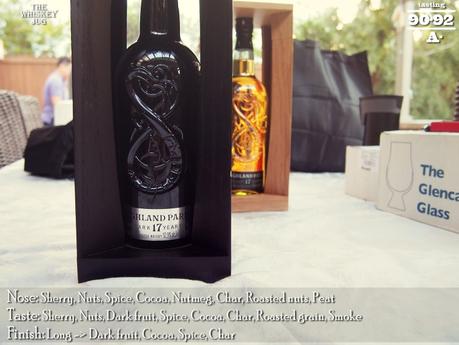 Wow… just wow. Deep heavy dark fruit, waves of that inky sherry character rife with iodine and vermouth characteristics and a layer of spice that threads its way from aroma to palate to finish. Highland Park The Dark 17 Years is the kind of stuff that made Highland Park famous, this is the kind of whisky that deserves to hold the name and carry the legacy. I'm utterly astounded by how nice this is… it's bonkers good.
The only thing I don't like about it is the price. Though that's likely a trend we'll never again see recede. As whisky popularity continues to rise, old stocks will continue to be increasingly rare and the premium or honey barrels will be released with ever-increasing prices until the market breaks and levels out. A sign of the times and trends to come.
SCORE: 90-92/100 (A-, not consumed at home)
Highland Park The Dark 17 Years Review
Nose -

90

Palate -

92

Finish -

91

Balance, Body & Feel -

90
90.75
Highland Park The Dark 17 Years Review Summary
Highland Park The Dark 17 Years is good… really good.
Sending
User Review
0

(

0

votes)
Comments Rating
0

(

0

reviews)