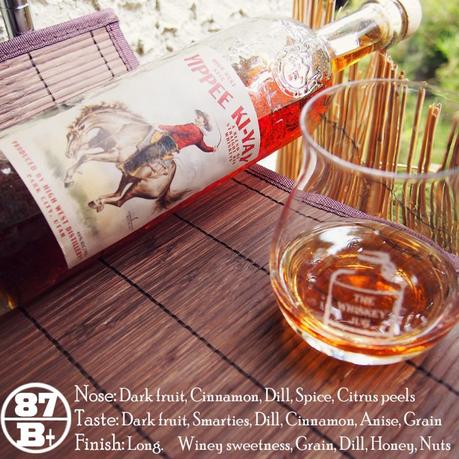 High West Yippee Ki-Yay is the traditional High West Double Rye getting the Midwinter Night's Dram treatment, by which I mean that one of their standard products is getting finished in wine barrels. The standard Double Rye is a blend of a young (2 years) MGP rye and an "older" Barton rye that has a barely-rye-whiskey mashbill of 53%. These ryes with the lower mashbill end up having a softer rye presence which can often lead them to tasting more like a bourbon when compared to something with a massively high rye mashbill of 80%+.
The use of the "older" bourbon-esque rye leads the Double Rye to have a softer sweeter character than its older higher rye sibling the Rendezvous Rye. To make the High West Yippee Ki-Yay some of this younger, softer, rye whiskey blend was put in Vya (vermouth) casks and some was put in Qupé (Rhone-style wine) casks to finish until Dave Perkins and team decided they were ready. Once ready the casks were dumped, blended and put in to a bottle just like the one you see above. Enough setup, let's dig in!
High West Yippee Ki-Yay Info
Region: Indiana, USA & Kentucky, USA
Distiller: MGP & Barton
Blender: High West
Blend: 2-Years-Old MGP + More-Than-2-Years-Old Barton
Mashbill: MGP = 95% Rye, 5% Malted Barley | Barton = 53% Rye, 37% Corn, 10% Malted Barley
Cask: New Charred Oak
Age: NAS (technically 2 years)
ABV: 46%
Non-Chill Filtered | Natural Color
Batch: 1
Price: $80*
High West Yippee Ki-Yay Review
EYE
Ruby
NOSE
Dark fruit, cinnamon and dill heavy spice, fresh citrus peels, toasted grain, vanilla taffy and a touch of caramel and wood.
PALATE
Dark fruit, smarties, dill, cinnamon, anise, toasted grain, biscuity, vanilla Tootsie Rolls and a touch of wood and nuts. There's a winey sweetness that runs throughout.
FINISH
Long winding river of winey sweetness, grain, dill, honey, nuts and wood.
BALANCE, BODY & FEEL
Decent balance, round full body and a slick oily feel.
OVERALL
High West Yippee Ki-Yay is another well executed wine-finished rye from Perkins and co. that helps further solidify that when when it comes to blending great whiskey Dave Perkins knows exactly what he's doing. The sweetness and spiciness butt up against each other in a way that builds interesting layers of flavor that compliment each other quite well.
The one minor quibble I have with the High West Yippee Ki-Yay though is that I could use a bit more spice and oak overall. Maybe put it back into some ex-rye barrels for a bit to keep the sweetness, but help some of the spice get higher in the profile along with a bit more oak. Still, it's a minor quibble and overall I enjoy this whiskey quite a bit.
SCORE: 87/100 (B+)
*Disclosure: This sample of High West Yippee Ki-Yay was graciously sent to me by the company for the purposes of this review. The views, opinions, and tasting notes are 100% my own.