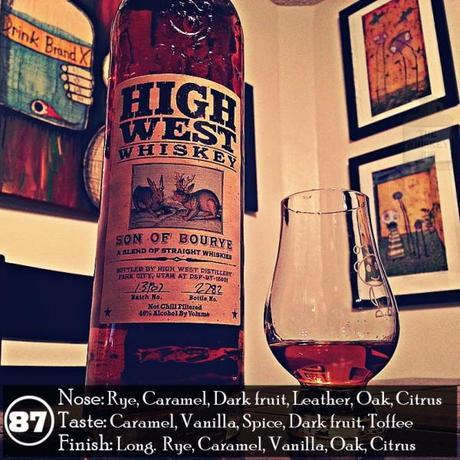 If I had to sum up the High West Son of Bourye in 6 words it would be "smells like rye, tastes like bourbon". The Son is not as good as the Father, but it is another masterful bourbon and rye blend from the whiskey wizards at High West. Comprised of much younger whiskey than it's father, the original Bourye, it has more bite to it and isn't nearly as refined. That said, it's still pretty good.
The original Bourye is comprised of 10 yr. Four Roses bourbon, 12 yr. LDI/MGP rye and 16 yr. Barton rye. Where as the Son of Bourye is comprised of Four Roses bourbon and LDI rye whiskey that is at least 5 years old. Though with how strong and youthful the grain is in this glass I would be surprised if it was much older than that at all.
Overall this is a good fun whiskey that's tasty neat, holds up on the rocks and makes a wicked cocktail. The high rye profile tempered with some bourbon sweetness makes this whiskey right at home in any bourbon or rye based cocktail and coincidentally makes one hell of an Old Fashioned. Though probably the best aspect about this concoction is that next time you're trying to decide if you want bourbon or rye you can just split the difference and have both.
High West Son Of Bourye Review
Batch: 13F01
Bottle: 2782
ABV: 46%
Price: $45
Distiller: Four Roses & LDI/MGP
Blend and mashbills: Min 5 yr bourbon (75% corn, 20% rye & 5% barley malt) and min 5 yr rye (95% rye & 5% barley malt)
Not Chill Filtered
EYE
Caramel
NOSE
Rye and caramel dance out of the glass with some dark fruit and leather. Oak and overripe citrus make a commotion with some cinnamon and dill. A bit of bourbon spice drifts through on a light current of astringency.
TASTE
Caramel and vanilla do the tango with a much more pronounced bourbon spice while some sultry dark fruit, toffee and a punchy spot of rye waltz around in the background. Cinnamon and a bit of oak hang out like wall flowers; getting noticed, but don't really make it out to the dance floor, let alone take the center spot.
BALANCE, BODY & FEEL
Well balanced, they definitely know their blending craft. The medium body is not as rich as the original Bourye, but it is just as smooth and easy to drink even if it does carry a bit more astringency with it.
FINISH
Rye kicks up again at the end with caramel, vanilla, oak, citrus and dark fruit combining for a nice long finish.
SCORE: 87/100