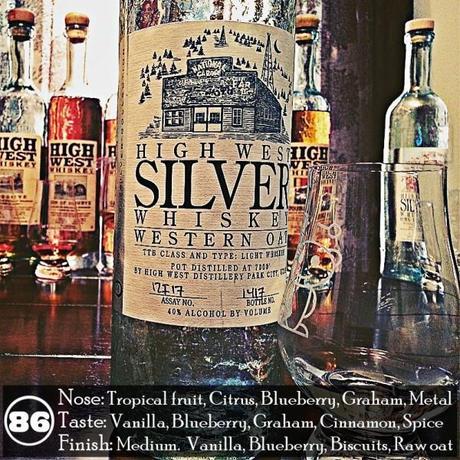 High West Silver Western Oat Review
Typically I'm not a huge fan of white whiskeys (moonshine, white dog, etc.) but this High West Western Oat is one I could actually use as a daily drinker. It's soft and fruity in a way that reminds me a bit of a good Speyside Scotch like Glemorangie and doesn't have that aggressive dried corn taste that comes with so many white whiskies which are essentially unaged bourbon (hence the dried corn taste).
Unlike the traditional mashbill of corn, rye or wheat and malted barley this particular whiskey is made, as the name denotes, mostly from oats (like oatmeal). It's also been created using a pot still which imparts a richer flavor and is a bit rare these days because most distilleries are using the more efficient column stills to create their spirits.
Overall I quite enjoy this whiskey. The soft fruity flavors and aromas mixed with the baking spices and light body and feel make it an easy spirit to drink neat or on the rocks and makes on hell of a cocktail. I've tried it in a Manhattan with tasty results and also tried it in some tonic water with some lime a-la a vodka tonic and it turned out just fine. Now I just need to get my hands on a bottle of Valley Tan, which is the aged version of this, for a good ol' fashioned side by side tasting.
High West Silver Whiskey Western Oat Review
Batch: 12I17
Bottle: 1417
ABV: 40%
Price: $37
Distiller: High West
Mashbill: 85% oat & 15% malted barley
Age: Spent about 5 minutes in a toasted French Limousin Oak barrel
EYE
Clear
NOSE
Complex fruit, like a tropical fruit salad, comes up first followed by citrus and blueberries. Riding under these notes lie a sugary buttery graham punctuated with some metallic notes. All in all it reminds me a bit of a blueberry crumble or cobbler just without any cinnamon.
TASTE
Vanilla and blueberry dominate the taste with more of that graham coming in next. A touch of cinnamon and baking spices get wrapped up in an overall nutty character and held up by an underpinning of light berry flavors. The palate completes the blueberry cobbler/crumble picture.
BALANCE, BODY & FEEL
Smooth with a light body, almost watery, it's easy to drink and has a nice balance with an array of sweet and spiced flavors holding everything in check.
FINISH
Vanilla and blueberries turn to biscuits and raw oats on a medium finish.
SCORE: 86/100