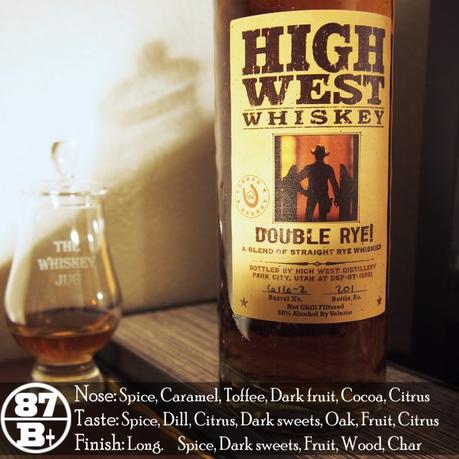 High West Double Rye Barrel Select is a single barrel offering of the traditional High West Double Rye that's been aged for an additional 19 months in a used cask. The typical Double Rye is a blend of 2-year-old MGP rye an "older", "barely legal", Barton rye. The MGP rye is the typical 95/5 that gets used by a large array of companies, most notably it's the rye in George Dickel Rye and Bulleit Rye, both of which sport green labels. It's somehow become the color of rye whiskey.
Liquor stores and private parties have the ability to take part in the single barrel program and snag their own High West Double Rye Barrel Select, you just have to go through the proper channels. This particular barrel was purchased by a group of us on r/Bourbon through an online liquor store who worked as our legal retailer so it could all funnel through the proper channels and adhear to America's three tier system. Complicated and pricy? Sure. Was it worth it? Let's find out!
High West Double Rye Barrel Select Info
Region: Indiana, USA & Kentucky, USA
Distiller: MGP & Barton
Blender: High West
Blend: 2-Years-Old MGP + More-Than-2-Years-Old Barton
Mashbill: MGP = 95% Rye, 5% Malted Barley | Barton = 53% Rye, 37% Corn, 10% Malted Barley
Cask: New Charred Oak + Ex-Campfire Cask for 19 months
Age: NAS (technically 3 years)
ABV: 50%
Non-Chill Filtered | Natural Color | Single Barrel
Batch: 616-2
Bottle: 201
Price: $50
High West Double Rye Barrel Select Review
EYE
Amber
NOSE
Dilly spice (cinnamon and anise-like) roll out the welcome mat followed by a thick bit of caramel and toffee (dark sweets), dark fruit and cocoa. Citrus peels and vanilla taffy come through lightly, but I'm disappointed there's no smoke. I was hoping the campfire barrel would add a bit of that to the aroma.
PALATE
Spicy dilly rye pops and cruises across the palate on a road paved with dark sweets, oak, fruit, citrus and vanilla taffy. No real nuanced notes here, it's rather bold the entire way, and again there's no smoke…
FINISH
Long and spicy with bold notes of dark sweets, fruit, wood and char… but no smoke.
BALANCE, BODY & FEEL
Great balance, medium body and a round oily feel. A pleasant drinking experience.
OVERALL
This High West Double Rye Barrel Select was picked by/for Reddit, received an additional 19 months of aging in an ex-Campfire cask and doesn't contain any smoke. It does however have a beautifully rich character that supersedes any of the recent batches of Double Rye I've had. It reminds me more of the older, single and double digit, batches of HWDR I drank while living in Utah. The additional time spent marrying and maturing in a used barrel made it a bit richer all around.
Being a single barrel, "store pick", High West Double Rye Barrel Select will run you a bit more in the liquor store (or in a private group) than the regular Double Rye, but not astronomically so and I'd say it's worth it. Putting the liquid into used casks to marry for an additional 19 months gives the whiskey some added depth that takes it from a good whiskey to a great whiskey.
SCORE: 87/100 (B+)