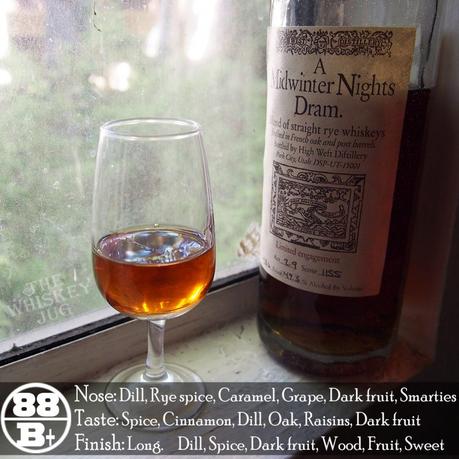 High West A Midwinter Night's Dram is their traditional Rendezvous Rye that's been finished in French Oak & ex-Port casks. If you're not familiar with it, the traditional HWRR is a blend of 6-year-old MGP rye and 16-year-old Barton rye; both have a massive rye mashbill but lend different characteristics to the whiskey. The balancing act Perkins creates by combining ryes that are a decade apart is spectacular and it's one of my favorite daily drinkin' ryes.
Being that I hold this whiskey in such high regards I was more than excited to see what the High West guys were able to achieve by giving their traditional Rendezvous some additional maturation in used French Oak and ex-Port barrels. Their site doesn't give the exact details on if it's first finished in ex-Port barrels and then finished in French Oak, or the other way around or if some of the RR is finished in French Oak and some in ex-Port and then blended together so I don't have those details, but what I do know is that it's a mighty fine experiment.
High West A Midwinter Night's Dram Info
Region: Indiana, USA & Kentucky, USA
Distiller: MGP & Barton
Blender: High West
Blend: 6-Years-Old MGP + 16-Years-Old Barton
Mashbill: MGP = 95% Rye, 5% Malted Barley | Barton = 80% Rye, 10% Corn, 10% Malted Barley
Cask: New Charred Oak – Finished In French Oak & Port Barrels
Age: NAS (technically 6 years)
ABV: 49.3%
Non-Chill Filtered | Natural Color
Act: 3
Scene: 1155
Price: $80
High West A Midwinter Night's Dram Review
EYE
Ruby copper
NOSE
Dilly rye spice moves out followed by notes of caramel, grape heavy dark fruit, Smarties, iodine and vermouth. There's a light bit of an alkaline metallic nature under the core aromas.
PALATE
Spicy cinnamon and dill make their way across with notes of oak, raisiny dark fruit, strawberry taffy, Smarties, toasted grain and some light touches of leather, nuts and pink peppercorns.
FINISH
Long ribbons of dilly spice intermix with dark fruit, wood and a general sweetness.
BALANCE, BODY & FEEL
Well balanced, full bodied and a warm thick texture.
OVERALL
High West A Midwinter Night's Dram Act 2.9 is a great combination of rich sweet winey notes that pair well with the rustic spicy nature of the traditional Rendezvous Rye. It's a fantastic combination of sweet and spicy delivered in an ruddy oaky package, but that nice winey sweetness comes at a bit of a cost. It covers up some of the more nuanced spice notes of the RR that I love.
Tasting them next to each other I came to the conclusion that about 4 days out of 5 times I'd rather come home to a glass of the Rendezvous over the Midwinter Night's Dram. I'm drawn more towards the assertive spicy rye character in the RR than I am the sweetness of the High West A Midwinter Night's Dram. Still, it's a fine dram and I'm perfectly content to sit and sip on a glass after a long day. In every way it's a perfectly sippable whiskey and if you haven't tried it I recommend you do.
SCORE: 88/100 (B+)