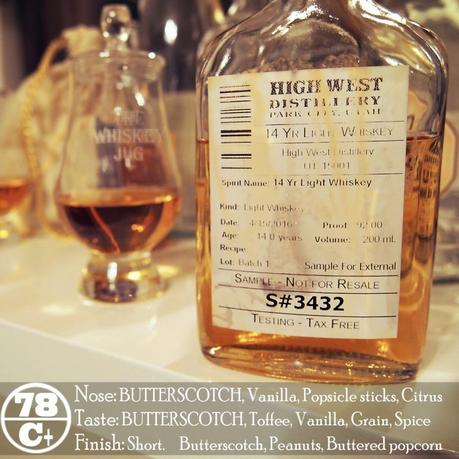 High West 14 Year Old Light Whiskey… what the hell is that? If that was the first thought through your mind then allow me to shed a bit of light on the dram at hand. Light Whiskey is a TTB designation that refers to a grain spirit distilled to the point of being 80-95% ABV before going into the barrel. In contrast bourbon, rye, etc. is distilled to <80% ABV when it comes off the still. This is not to be confused with Neutral Grain Spirit (Everclear) or Vodka which gets distilled to 95%+ ABV.
We all know that High West is a prolific blender of Bourbons and Ryes and on one of their trips to the MGP warehouses they came across 100 barrels of this light whiskey that had been sitting in refill barrels for 14+ years. They tasted it, thought it was interesting and shipped the barrels back to Utah where they were dumped and bottled to create the High West 14 Year Old Light Whiskey. I've only had one other light whiskey before, which I was "meh" about, so I was incredibly excited to see how this one turned out.
High West 14 Year Old Light Whiskey Info
Region: Indiana, USA
Distiller: MGP
Bottler: High West
Mashbill: Mostly corn
Cask: Refill barrel
Age: 14 years
ABV: 46%
Non-Chill filtered | Natural Color
Price: $100* – Gift Shop Only
High West 14 Year Old Light Whiskey Review
EYE
Light copper
NOSE
Butterscotch bomb! This reminds me a bit of old Sunny Brook, Bourbon de Luxe or certain VOSN releases with how much butterscotch comes rolling out first. That butterscotch is followed by notes of vanilla, popsicle sticks (arts & crafts style) and a light whiff of citrus, Milk Duds and cream soda. The Butterscotch dominates though.
PALATE
Butterscotch again dominates followed by notes of toffee, vanilla, grain and a bit of spice like white pepper, clove and cayenne accompanied by a bit of a peanut quality before heading into the finish. There's an alcohol pop that comes and goes while drinking it.
FINISH
Short flare out of butterscotch, peanuts, buttered popcorn and clove heavy spice.
BALANCE, BODY & FEEL
Not well balanced with that butterscotch flavor weighing so heavily. Light body and light soft feel.
OVERALL
The High West 14 Year Old Light Whiskey is… light. It says so in the name so you know what you're getting and it definitely delivers on that promise. This isn't a thick oily or woody whiskey and if that's what you're looking for you need to look elsewhere. However if you love butterscotch then this might be the whiskey for you because it delivers that aspect in droves! It's not complex, but it is interesting.
High West 14 Year Old Light Whiskey isn't available in retail stores at the moment and is only available in the High West gift store at the not-insignificant price of $100. It's not a production whiskey, it's a "commemorate your trip" whiskey. I'll leave you to decide what you're willing to spend on unique bottles in whiskey gift shops.
On a side note, if you're in a position to try the High West 14 Year Old Light Whiskey do not, I repeat, DO NOT drink anything else before it. You will wipe it out. I tried going back to it after tasting the also light and unassuming Wyoming Whiskey Batch 25 and all I tasted was corn and alcohol. I imagine the corn might even disappear, and it would taste like nothing but alcohol, if you tried it after something richer like a Buffalo Trace or Wild Turkey 101… or even a WT81.
SCORE: 78/100 (C+)
*Disclosure: This sample of High West 14 Year Old Light Whiskey was graciously sent to me by the company for the purposes of this review. The views, opinions, and tasting notes are 100% my own.