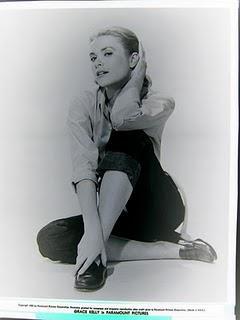 Women's high rise blue jeans are a great fashion look.  From Farah Faucet and Charlie's Angels who wore the high-rise, wide-leg jeans in the late '70s  to old Hollywood of the 30's, 40's and 50's who also rocked the look.
In Hollywood, jeans for women were made popular by the stars of the time.  There was the athletic and self-assured Katherine Hepburn (who wore them off-screen) and  Marilyn Munroe (who wore them on).   Debbie Reynolds also did her part in "Tammy."  Not to mention the motorcycle culture of the early 50s who also helped to make them fashionable.  Think of Marlon Brando "On the Waterfront."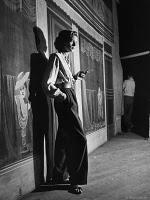 If you are looking for a great look check out Grace Kelly as "Lisa" in the movie "Rear Window."  Kelly wears a fabulous pair of  slim indigo denim jeans with turned up, calf length cuffs (also known as pedal-pushers) and a high waist.  Coupled with a man's button down shirt (fashionable in the 1950s) and the feiminine flourish of a sash. And alas, a pair of dark brown loafers in pintucked leather with wedge heel to seal the deal.(info found at Clothes on Film. and pictures were sourced from the Grace Kelly thread at The Fashion Spot.)
Perfect for the pinup or fifties look,  high rise jeans cinch the narrowest part of your torso and play up your curves. This makes them a natural for the curvy women who want to accentuate what she's got, along with the more boyish figures who want to create the illusion of an hour-glass figure.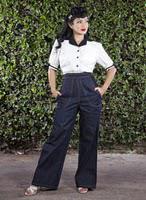 At Get Go Retro we have these really adorable late 1940's inspired dungarees by  Nicole Katherine Designs. Made from USA denim! Beautifully handcrafted with a vintage looking side metal zipper. High waisted and slightly wide legs. Wear them cuffed with saddle shoes, penny loafers, heels or wedges. It's a perfect way to keep your sexy pin-up look in the colder months.  (We sell the saddle shoes too.)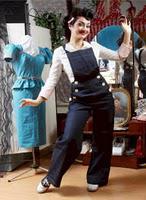 High waisted jeans – particularly wide and trouser cuts in dark washes – are a perfect fit for the office. You can look professional by pairing your jeans with a tucked-in white shirt and a cropped jacket. Throw on a few bracelets, a thick belt with dress shoes and it's a go. Here's a tip: wear a shirt with a built-in bodysuit so it stays tucked in.Prefer overalls?  We have them too ...Straight legs; dark denim with white button closure in the front, straps button in place in the back. Back patch pockets and a patch pocket on the front flap.
Another plus for high waisted jeans ... you can actually bend over and keep your dignity : )