We had a chance to sit down with Brad & Curtis of High Valley for an interview before they taped their CMT Special "Live at the Edison Room"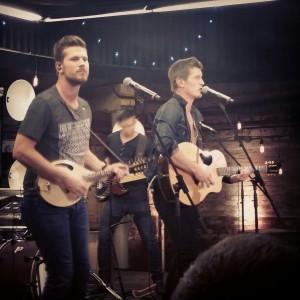 High Valley – CMT Edison Room Performance
Sound Check:   New album, new tour your hitting the road to promote #CountyLine, tell us how the start of the tour is going?
Brad: Its been awesome from day one.  We didn't waste anytime, the first show was out in Lindsey, Ontario and then we hit Sterling, Ontario and then up to Sherbrooke, Quebec.  We have been all over the place and been going pretty hard but having a lot of fun doing it.
Sound Check: This tour brings you to the smaller venues. This brings you closer to the audience how does that play into your live show?
Curtis:  We love that kind of stuff.  We grew up doing that kind of thing and engaging with the audience is what we thrive on. We love to be able to connect with the fans. Getting to play the smaller cafe every now and then is a pretty sweet opportunity and its something the fans can remember for the rest of their lives.
Sound Check:  We are sitting here just before you hit the stage for the CMT Special – Edison Room with High Valley and getting a chance to play a small room for a select few and to have 6 or 7 songs going to Air on CMT Canada how does that feel?
Brad: Anytime you get the opportunity to do something like this (a full half hour special on just High Valley).  We would never have been able to dream of this.  This is amazing, I can't wait for our Mom & Dad to call us and say they were just flipping through the channels and their ya are.  We are pretty excited about it.   And the fact that people can just go online and check it out that's pretty cool.  We have always been about online   Making fans and connecting to them, physically in real life in the record store or online.  We love any chance to make a new fan.
Sound Check:  Your definitely active on social media.
Curtis: We try pretty hard.
Sound Check:  Country music today has changed from what it was in the Waylon & Willie days.  How do you feel about the progressive change?
Brad: With all due respect to the "Fathers of Country Music" Waylon,Willie & Hank those guys had very little in common with the very first country and western music anyway.  Its always been evolving.  Johnny Cash was a rebel, Willie Nelson is a rebel, so I don't think there is any rules like that.  Country music is a type of people that live out in the country or wish they did.  Or people that like to be in the outdoors and kinda have an old fashioned way of life along with a hard working attitude.
Its pretty much a blue collar type of environment.  Music has definitely changed from when I started listening to country music in the 80's with Ricky Skaggs to Florida Georgia Line and Luke Bryan its a totally different world but its still country and if you listen to the lyrics there is still a lot of similarities.
Sound Check: It still tells a story, that's what I think country music is.  High Valley is a great team of story tellers on stage and on video.  But you had mentioned Ricky Skaggs in your last answer.  You had an opportunity on this album "CountyLine" to work with the legend Ricky Skaggs can you tell us how that came about?
Curtis:  Ricky Skaggs is a legend for sure, Brad was born in the 80's and has been listening to Ricky since then and I was born in the 90's and our whole family loves Ricky Skaggs music and we did eventually connect with him. He actually introduced us when we debuted at the Opry and he had us on tour with him for a period of time.
He was willing to help us out on the record and do a guest vocal on one of the songs..  And is probably my favorite song on the record.
Brad: We are pretty proud of it and its not a moment we thought would ever happen so its pretty big for us.
Sound Check:  So working with Ricky, and looking at who else you have had a chance to write with (Deric Ruttan, Jim Beavers to name a few) how do these writing sessions come together?
Brad: Obviously I am very thankful that these people are willing to write with me. I think its always a favor at some point from somebody.  You have to prove yourself the first time that they write with you. So you dont screw it up for the future.  But if you can bring a half decent idea people are pretty generous to give it a shot to write again.  Thankfully Jim Beavers was willing to write with me and honestly having a guy like Deric Ruttan in your corner is a pretty big step in the right direction.  So when Deric says hey you should try writing with this kid they give it a shot.  So Deric is great and is one of the best writers in town.
Sound Check:  How do you take writing sessions with some of the bigger names, I know from speaking with Tim Hicks he thinks of himself as a 'tourtured song writer"  how do you feel before those sessions?
Brad:  I think of writing songs more as a hang session and I am not nervous about it or worried.  I just think this better rock, or its a waste of time.  I just try to make it rock and have fun, but if it doesn't that's to bad.
Sound Check:  Can you tell us a bit about the charity that you have taken out on tour with you this time around "Food for the Hungry"
Curtis:  Food for the Hungry is on tour with us and we went out to Burundi Africa, and we went way off the beaten path. We found this little village out there and there is about 300 kids.  We decided we wanted to bring them on tour with us.   So we are giving all the fans we are playing to on this tour a chance to help us out by working in the community and supporting the kids and bringing them a brighter future.
Brad:  We didn't physically take them on tour with us but we did get pictures of all of them and if we keep the pace we will get them all a home.   People can sign up online its just over a $1 a day to sponsor a child.  You can also see online that the video of me meeting my sponsor child Avod.  Its hard to believe that $1 would make difference but when I took him to buy some new clothes because he had none.  I bought him track pants, shorts, dress shirt, zip up jacket and a pair of shoes all for $15.  So a $1 goes a long way.
Sound Check:  What inspired you to get involved with this charity?
Brad:  We have always wanted to make our tour a bigger deal than just making country music.  Our lyrics have always been about Faith, Family & Farming.  We thought if we could find a little farming village the two of us as a family could have faith I guess that people would actually want to help.    We would make our County Line Tour, our first ever headlining tour we would make it all about these kids.  So at every show we take a 20 min break and encourage people to go out in the lobby and support the charity.  If you sponsor a child we will give you a copy of our CD for free.  We really want to make it about the kids.
Sound Check Wrap Up:  I want to thank Brad & Curtis for taking the time to chat with us just before they hit the stage.  It was a pleasure to talk to such amazing artists and guys that really have their hearts and souls in the right place.  Go to our Facebook page for your chance to win a signed copy of County Line.
Be sure to catch High Valley on one of their up coming County Line Tour dates.
Those in Ontario still have time to catch them at one of the 5 remaining shows.
Corey Kelly / @CoreyKelly76 
http://highvalleymusic.com/shows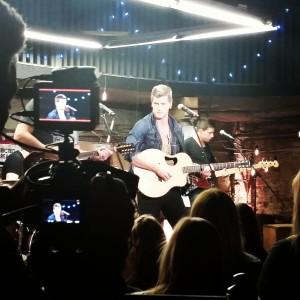 High Valley – CMT Taping of The Edison Room