High-end to drug-store dupes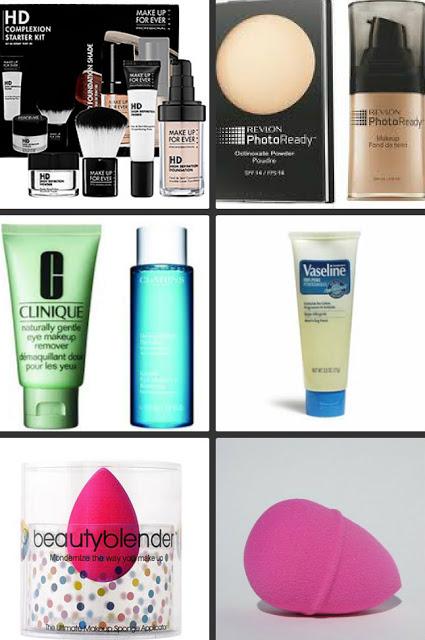 Here our a few dupes and the dupes i have picked are either a perfect dupe, or very very close is the first picture i have the Makeup forever HD line, and the dupe is the Revlon photo ready line,  and we all know when it comes to drug store brands Revlon is definitely a power brand i personally love both brands, there are a few differences between the two though first being price the price of the makeup forever, for just the foundation goes for 49.00 right now at
sephora
or you can get the whole makeup forever HD kit with the 
0.17
oz HD Microfinish Powder,
 HD Kabuki Brush,0.5 oz HD microperfecting primer 0.01 oz HD invisible cover foundation for 92$ again 

sephora

's price so if you did want to try out the makeup forever line instead of choosing the cheaper option that's what you will pay.
If you were to go with the Revlon Photoready line instead you would pay
$16.96 for a kit of a spf 14 powder, spf 20 concealer and foundation, and a makeup 
compact spf 20, and this is the price currently at

walmart

. The only concerns of mine with the Revlon photoready drugstore option is 
the amount of spf because it is supposed to be for a ''photoready'' option makeup with spf tend to have a harsh contrast where the makeup is in photos and like a lot of revlon foundations [in my opinion'] a lot of them have a really dewy finish and with the dewyness and the spf a high flash might not be as flattering without a good matte powder. That is really the only concern of mine with going with the dupe other than that it is a great dupe and because of the price difference i think it would be worth just getting yourself a really good matte powder and giving it a try for a drug store powder i would recommend trying the stay matte rimmel pressed powder this has been one of my go to powders for a while and definitely one of the best options  for a great matte powder all around not even just for a drug-store brand. 
Second dupe is MY FAVORITE Secret, well i guess it isn't really a secret as i'm sure a lot of you know this whether you do it or not but the Vaseline Makeup remover like to be totally honest i don't even buy makeup remover anymore Vaseline works fantastic and i'm sticking to it it is crazy to me why anyone would buy the high-end makeup removers when vaseline removes your eye makeup while at the same time moisturizing your skin, and being a lot better for your skin it keeps me sold. the other great thing is Vaseline or any petroleum jelly is usually just something you have lying around the house so it's not even like you have to go out and buy it in most cases, and if this is something you don't have you should because i will be doing a lot of tutorials soon to come on ''do it yourself'' things with one of the main ingredients being Vaseline or petroleum jelly. Also Vaseline is just the brand i use any jelly you have will do, and if you haven't tried this i strongly recommend this money saver.
Third is the most raved about sponge the beauty blender being our high-end product, and the SOHO beauty sponge as our dupe to purchase the beauty blender and cleanser from

sephora

 at the moment you would be paying 44.00 but at the moment they also have at  sephora the  new beauty blender in black [same brand by beauty blender] in a set of two for 29.00 and you get the two black beauty blenders for 29$, if you type in PRO Double blenders this deal will come up or click this link to bring you directly to the page  

sephora 

. Now for our dupe is our SOHO beauty sponge is on for only 8$ on  

amazon

  so again there is quite a significant price difference, but i have done a lot of research on other people's opinion of this product because i haven't personally tried them and i didn't want to be giving bad advice, and pretty much every review i have read or watched had said nothing but great things, or especially with the newer shaped one which is pretty much exactly the same shape and size of the beauty blender other than the ring around the middle of the beauty sponge by soho there are others i did some research on the one by Avon and it just doesn't seem to make the cut on me being able to see enough great things for it to be worth sharing and recommending and because i haven't tried these myself i am just going to go with same bet on what i have discovered and as for a close dupe the SOHO beauty sponge seems to be a pretty awesome dupe, and i think i will definitely be purchasing this shortly. If you see the newer version of the beauty sponge above, the bottom right corner and see the beauty blender on the left pictures of the sponge collage there really is not much difference and if you see them side by side which i will link a video so you can see them side by side they are pretty close to the same, check out this video where you can really see the  very small differences, also i will do a full review on these once i am able to get my hand on all three the beauty blender [the regular pink] is out of stock at sephora and so is the Avon so once i am able to get all three i will do a full review.
http://www.youtube.com/watch?v=9VlPSdbLnIY
Also if you enjoyed this post and would like to see more like this one comment and let me know, and also if there is anything you would like me to research, test or post about comment below hope you enjoyed and found this useful :)