If you are allergic to milk, you may be consuming it in your foods without realizing it. 
If you are reading labels carefully, you might see a label that states "contains milk". Then you read the ingredients but can't figure out where the milk is in your "non-dairy" product. Well, that's because some ingredients aren't called milk, but come from milk.
Here is a list of things to look for on your food labels when you are trying to figure out if it has milk or not. The ones with a * MAY contain milk.
I am listing the obvious ones (like buttermilk) and the not so obvious ones (like casein).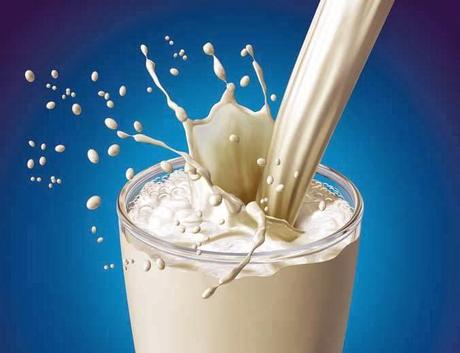 Glass of Milk. From: RoshniPaulSoulSearches
Milk Ingredients List/ Foods that contain milk
Acidophilus Milk

Ammonium Caseinate

Artificial Butter Flavor

Artificial Flavoring *

Butter

Butter Fat

Butter Oil

Butter Solids

Buttermilk

Buttermilk powder

Calcium caseinate

Casein

Caseinate, in general

Caramel flavoring *

Cheese, All animal based

Condensed milk

Cottage Cheese

Cream

Curds

Custard

Delactosed whey

Demineralized whey

Dry milk powder

Dry milk solids

Egg Nog (So Delicious Coconut Milk Nog is Dairy Free!)

Evaporated milk

Flavoring

Galactose *

Ghee (clarified butter)

Goat milk

Half and Half

High protein flour *

High Protein foods * (for example (High energy bars)

Hot Dogs *

Hydrolyzed casein 

Hydrolyzed milk protein

Hydrolyzed Vegetable Protein or HVP *

Ice cream

Ice milk

Iron Caseinate

Kefir 

Koumiss or Kumiss

Lactalbumin

Lactic Acid Starter Culture *

Lactic Yeast

Lactitol monohydrate 

Lactobacillus

 *

Lactoferrin

Lactoglobulin

Lactose

Lactulose

Low-fat milk

Luncheon Meat *

Magnesium Caseinate

Malted milk

Margarine * (most contain whey)

Milk

Milk derivative

Milk fat

Milk powder

Milk protein

Milk solids 

Natural butter flavor

Natural Flavoring *

Nisin preparation

"Non-dairy" cheese * 

"Non-Dairy" products * (may contain whey or casein)

Nonfat milk

Nougat

Paneer

Potassium caseinate

Prebiotics

Protein foods *

Pudding

Recaldent

Rennet Casein

Rice Cheese *

Sausage

Skim milk

Sodium caseinate

Sour cream

Sour Cream Solids

Sour milk solids

Soy Cheese *

Sweetened condensed milk

Sweet whey

Whey

Whey powder

Whey protein concentrate

Whey protein hydrolysate

Whipped cream

Whipped topping

Whole Milk

Yogurt

Zinc Caseinate
Is this list a little long? Don't panic! Kids with Food Allergies has a printable card you can take with you to help you remember these. Not all milk ingredients are on the card since I am getting the list from a few sources. It will give you a good head start though. 
Printable Cards! From Kids With Food Allergies
You can find the printable milk allergy travel card here.
Here is a larger one that you can print and put on your fridge. Click here to see it.
See something that needs to be on this list?
Did I miss something that contains milk? Shoot me an email and I'll add it to the list.
Reading around the web:
Go Dairy Free A very helpful website with a lot of information for avoiding milk and milk derivatives.
Resources for this post: 
Kellymom
Kids With Food Allergies
Wikipedia
Web MD
About.com
My experiences with trial and error