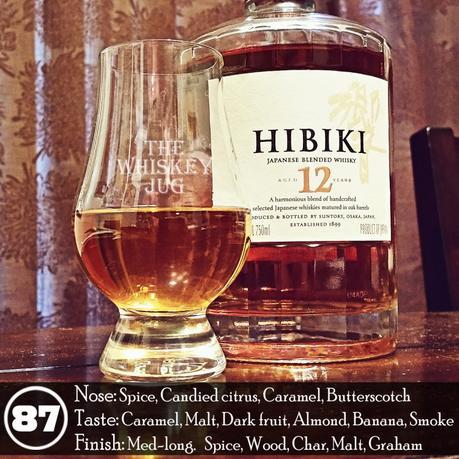 Hibiki 12 is a blended whisky from the Japanese company Nikka and is a blend of Nikka's Yamasaki and Hakushu single malts. Being a blend it also contains a grain whisky from their Chita distillery. The whiskies start aging in ex-bourbon barrels, but at some point the liquid spends time maturing in plum liqueur barrels. I can't say I get any plummy notes from it, but I will say it has a unique character and that could definitely be playing a part in that.
Now for the sad part… Hibiki 12 is no longer being made and has been replaces with a NAS version called Harmony (which I'll be reviewing soon), but it can still be found fairly easily. I picked this one up at a smaller liquor store here in Los Angeles recently and I also know that an LA Costco got in a huge shipment of them a month or two back and put them out at a reduced price to close it out. Right now is an interesting time for Hibiki 12, some stores (usually chains) are closing the bottles out and reducing the price while other stores (usually specialty shops) are jacking up the price. Regardless if you want to try it now is the time because it won't be too much longer before it's all gone and the only price in town is the secondary market price, and that's never pleasant.
Hibiki 12 years Info
Region: Japan
Distiller: NIkka
Age: 12 years
ABV: 43%
Price: $75 (price increasing quickly though)
Hibiki 12 years Review
EYE
Dirty honey
NOSE
Spice, candied citrus, caramel and butterscotch lift out of the glencairn first followed by notes of vanilla, toasted grains, butterscotch and a bit of smoky char. There is a hint of astringency and alcohol, but they're light enough to not be major distractions.
PALATE
Caramel, malt, dark fruit, almonds, bananas, smoke and wood all fight for dominance with light bits of dark fruit, spice, toasted grains and alcohol watching from the cheap seats.
FINISH
Med-long fade of spice, wood, smoky char, malt, graham and fruit.
BALANCE, BODY & FEEL
Nicely balanced with medium body and a warm silky feel.
OVERALL
I really enjoy the Hibiki 12 and it's sad that NIkka has cut it from their lineup. It was a fantastic example of a blend done right and even though it was a bit overpriced it fell in line with the pricy nature of all Japanese whiskies here in the USA. It has a nice aroma, pleasing palate and a complimentary finish that tied the whole whisky together in a nice neat package. Really not a bad little dram.
SCORE: 87/100