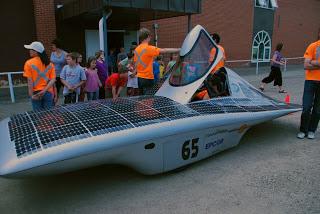 Hey again,
We're really seeing the value in testing today. I told you about the interesting issues we've having over the past couple days; last night we discovered the root cause for the majority of them. A piece of carbon fiber had fallen off the weather proofing and was shorting out the motor in the back. Ithad been giving us interesting errors, like only driving backwards and completely cutting out after the car sat in the heat for a while.
We sorted that problem out before hitting the road this morning, and everything has gone smoothly. We even got into today's school visit a half hour early in Wainwright, Alberta. The kids there were really excited to see the solar car; we even signed a few autographs.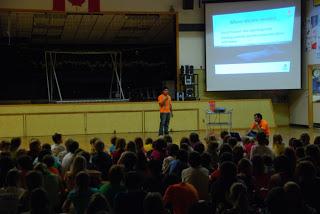 Tonight, we've set up base camp in Elk Island National Park. We've set up a makeshift machine shop and garage, and are making further modifications to Axiom. We're still having issues with not having enough torque at very low speeds, making it hard to start from a stop when going uphill.
I'll keep you posted on that, and we'll be heading off for a school visit in Westlock tomorrow.
Brandon