Bring on the bodycon dresses!  Ever since Max Azria took over Hervé Léger, he's has remastered the bodycon dresses that made Hervé Léger himself famous in the first place.  It becomes a challenge to create something new every time with that concept.  However I love the sports influence over this collection.  It is a change from the rest of fashion week as the trends of preppy and ladylike has reigned.  So is this a matter of an Olympics influence or the other way around? Hmm…all I know is that if the Olympics team had let Max Azria design their outfits, they would look a whole lot better than what they currently have.  I want the US to do well and all but I just simply can't get over the atrocious colors that got put together on the Olympians. *sigh* In any case, these outfits are architectural wonders.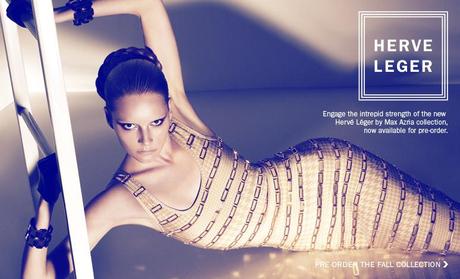 Herve Leger brand has released bondage dresses, season after season, year after year. Despite the fact Max and Lubov Azria have been reintroducing the bondage design many times, each season they invent something new which attracts customers. For fall/ winter 2011/ 2012 collection revealed during New York Fashion Week the designers have brought "aunique suit of armor" that meant the wide use of gold and silver hardware.Majority of dresses in Herve Leger Fall/ winter 2011/ 2012 collection had huge amount of metal pieces stitched in between bands of material, and covered with buckle rings and chains woven into the fabric.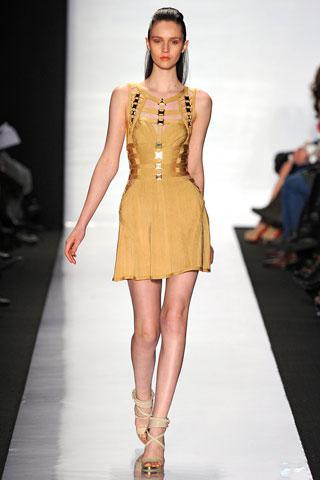 That looked stimulating and pretty different to a few dresses which were made in the old Herve Leger tradition.Herve Leger Fall/ winter 2011/ 2012 collection was the introduction of several non-bandage pieces, a beautiful pony skin coat and top and a pair of chic cropped wool trousers.