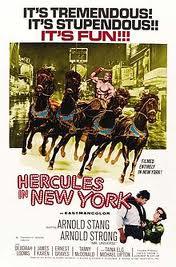 Year: 1969
Directed by:
Athur Allan Seidelman
Starring:
Arnold Stang
Arnold Schwarzenegger (Arnold Strong)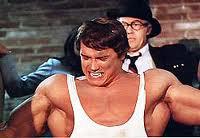 Long before he played the likes of the Terminator Arnold starred in a low key film that did nothing for his film career.It does however give us a look at the early day's of Arnie outside of the body building circuit. It's a funny old film and one that I kind of like even though I feel that I shouldn't. It has its funny moments and some very cheesy ones but the main thing about this film is that it serves as a point of interest for fans of Arnie. There's a wow factor in seeing him in a film that is so old. It's a good 15 years before his acting career really took off. Arnie plays Hercules, who is sent to Earth by his father for his insubordinate nature. He must learn the error of his ways before he can return to his world. Along the way Herc meets the other Arnold (Stang) who helps him to blend into the strange world that is Earth.
Why do I like this film?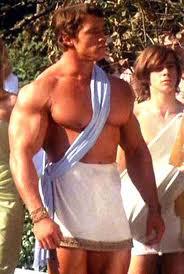 As I've already said I really shouldn't like this film but I do. It has plenty of cheesy humour, cheesy fight scenes and some cheesy acting from the man himself. Ok, it's cheesy, but the other Arnold (Stang) is the perfect partner to big Arns straight talking man out of time character. This film has a high level of novelty value, being Arnies first big screen outing. Unfortunately it went pretty much unnoticed at the time and has since been buried beneath Arnold's more well known cinema outings. It's worth noting that there are two versions of the film, one where Arnold's voice has been dubbed over and another with his own voice intact. It's worth watching the latter for the true Arnold experience. The film was first released in 1969 in New York only and then again in 1970 for a US distribution but it overall it was a commercial failure.