This Herby Marinated White Bean Salad is made with giant white beans, cherry tomatoes, sliced shallots, and lots of fresh herbs in a lemony marinade. Easy to make, no cooking necessary, and stays good for days in the refrigerator. Gluten-free & vegan.
Before I went plant-based, I didn't have a full appreciation for beans. I have now changed my tune, and oh man - I love these little legumes! I have become a fiend for beans in all their delicious, protein-packed forms: crispy chickpeas piled on my favorite kale salad, white beans sautéed with spinach for this scrumptious stuffed delicata squash, and pinto beans swirling in my delicious vegan chili recipe.
This marinated white bean salad though? The beans are the star of the show. Taking on all the delicious flavors of the tangy dressing they're bathing in, and marrying perfectly with the tomatoes and herbs that accompany them. This recipe is for my fellow bean lovers and appreciators.
What beans should I use?
I am in love with the Royal Corona Beans from Rancho Gordo that I used for this recipe. They are GIANT, buttery, creamy, and take on the marinade in this recipe so perfectly. However, because they're so gigantic, they also take a while to cook. I also like to give them a long soak too so they don't break while cooking. I follow Rancho Gordo's instructions for cooking.
So, they're not the quickest beans you could use here, but I find them to be the most delicious. While Rancho Gordo beans are truly fanatic, they're not the most economical and can typically only be sourced from their website and specialty grocery store. Worth seeking out if you can, but others will work well here too.
Other good bean options for this recipe include:
Great Northern Beans
Cannellini Beans
Cranberry Beans
You can either cook them from scratch in an Instant Pot or over the stove, or used a canned variety to make this marinated white bean salad a super quick and easy meal.
How long should I let this bean salad marinate?
I recommend letting the beans marinate in the dressing and herbs for at least an hour before serving, but you can make it a day or two ahead of time and it will be so fabulous!
It will stay good in the refrigerator for up to 5 days, and it will just continue to absorb that delicious marinade and get more flavorful as the days go on.
How to serve herby marinated white bean salad
On it's own as a quick snack
Part of charcuterie or snack board
Over greens for a quick salad, with extra marinade drizzled on as vinaigrette
On top of toasted bread
Mixed into cooled pasta for a pasta & bean salad
This recipe is simple, delicious, and doesn't need a whole lot of explanation, so I'll leave it there! Drop any other questions you may have in the comments below, and enjoy this deliciously refreshing salad.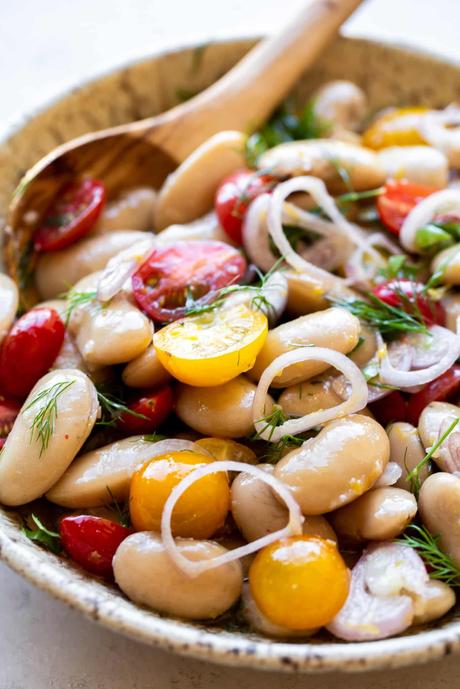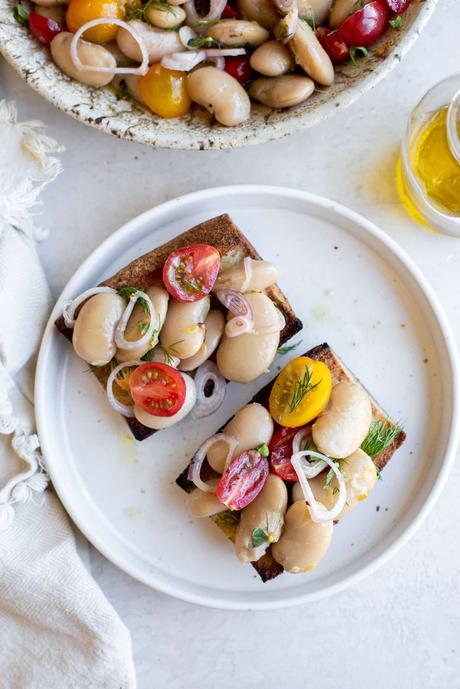 Want more delicious salad recipes?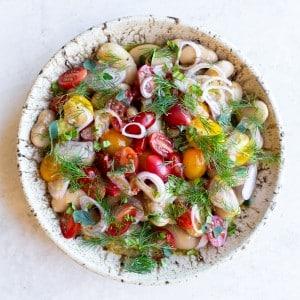 Herby Marinated White Bean Salad