When it comes to grilling season and feeding a crowd, there is nothing easier to throw on your grill than chicken kabobs.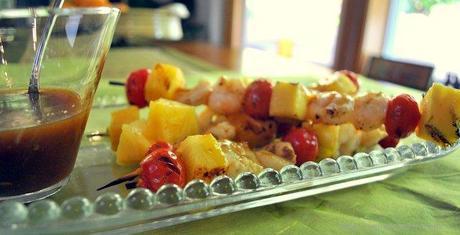 If you aren't familiar with the kabob method of grilling foods, wiseGEEK's description states that ". . . in Western culture, a kabob is made by skewering pieces of meat and or vegetables and then pan frying or grilling them." 
The Barbecued Shrimp and Pineapple Kabobs you see above is a classic example of this fun twist to putting food on the grill.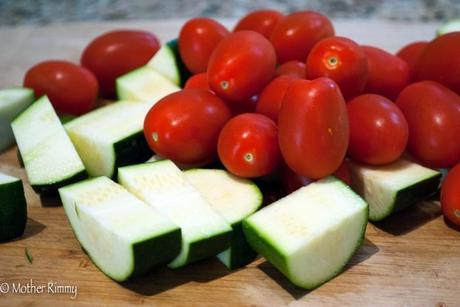 One sunny Seattle evening we threaded chunks of lean chicken breast onto bamboo skewers with tender red potatoes, tomatoes and zucchini fresh from the farmers market.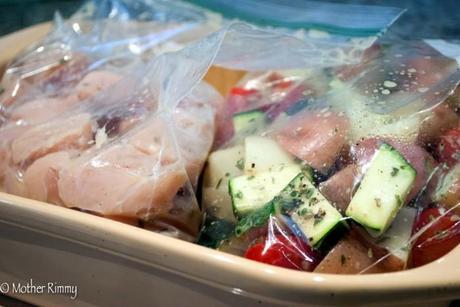 I'm a fan of marinading my meat and veggies with a low calorie dressing of fresh herbs like rosemary and thyme.
When time permits, I'll let my food sit in the frig overnight to create flavor-packed chicken that is completely moist and tender. But if you don't have that kind of time, just a 30 minute bath works well too.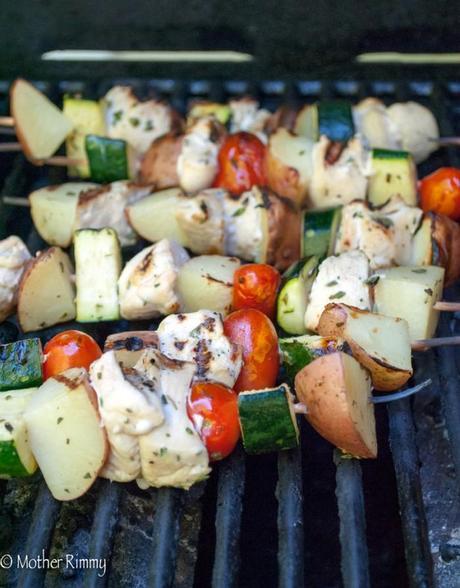 One final tip before I head off to work for the day. Can you see how the end of the bamboo is charred on that first kabob?
If you're using bamboo skewers, be sure and soak them well in water while your chicken marinades. I can't tell you how many times I've put out a kabob flame!
Enjoy and have a terrific weekend!
~Kristi
Print

Herby Marinated Chicken Kabobs with Zucchini and Tomatoes
Serving Size: Approximately 4 skewers each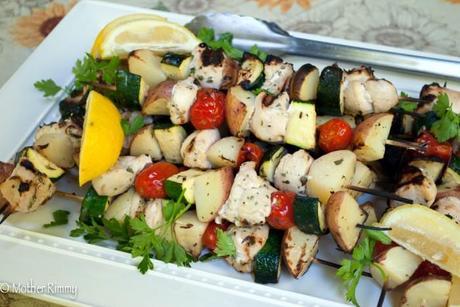 Shake It Up! Asian flavors work well with kabobs too. A mixture of soy sauce, mirin, rice vinegar, ginger, garlic and sesame oil makes a terrific marinade for seafood, chicken, beef and pork.
Ingredients
6 medium red potatoes, quartered
2 medium zucchini, halved, then halved again
2 cups bell pepper tomatoes
2 tablespoons olive oil
2 tablespoons red wine vinegar
½ cup low sodium chicken broth
2 tablespoons sage, minced
2 tablespoons thyme, minced
1 tablespoon rosemary, minced
1 teaspoon Dijon Mustard
1 pound boneless skinless chicken breasts, cubed
Instructions
Place potatoes in a microwave save bowl in 1" of water. Cover with plastic wrap and microwave for 10 - 15 minutes until firm, but tender. Allow to cool.
Combine olive oil, vinegar, chicken broth, sage, thyme, rosemary, and Dijon mustard in a bowl or jar and mix well.
Place potatoes, zucchini and tomatoes in a zip lock bag with 1/2 the marinade.
Place the chicken in another bag with the remaining marinade.
Marinate for a minimum of 30 minutes to overnight.
Drain vegetables and chicken, and thread on skewers (I use bamboo that have been soaked in water for 30 minutes). Alternate vegetables and chicken.
Heat outdoor grill and place skewers over medium heat. Gently turn to cook evenly. Chicken should be cooked through, but don't over cook. I look for chicken that has just turned from pink and still juicy.
Notes
Food energy: 263kcal Saturated fatty acids: 1.77g Monounsaturated fatty acids: 5.89g Polyunsaturated fatty acids: 1.40g Total fat: 9.06g Calories from fat: 81 Cholesterol: 72mg Carbohydrate, by difference: 14.99g Total dietary fiber: 4.23g Protein: 28.17g Total lipid (fat): 10.46g Water: 351.23g Ash: 3.70g Total sugars: 4.92g Calcium: 70mg Iron: 3.70mg Magnesium: 76mg Phosphorus: 328mg Potassium: 1178mg Sodium: 233mg
2.5http://motherrimmy.com/recipe-herby-marinated-chicken-kabobs-zucchini-tomatoes/Mother Rimmy�s Cooking Light Done Right by Kristin A. Rimkus is licensed under a Creative Commons Attribution-Noncommercial-No Derivative Works 3.0 United States License.