Hello everyone,
I have reviewed many of Herbal India products on my blog and most of them are effective in my opinion as per what they claim. You can check all the other reviews HERE  Herbal India do make products which promise to target problems like skin darkening, tanning, acne marks and pigmentation.Since they are made of natural ingredients I do try them out for reviews so that I can share with my followers. Today I will be reviewing Herbal India's Derma Renew Mello Derma Cream. Read on to know more and my experience post using it on my skin type.....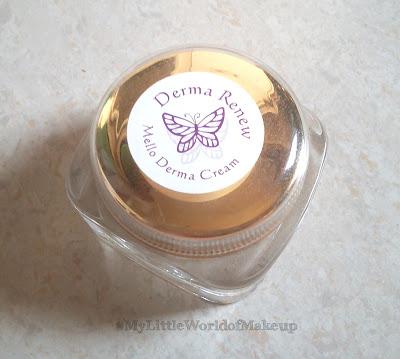 Price: Rs.3,000/- for 30g (Ehh expensive!) The products are exclusively available on their website only!
Ingredients: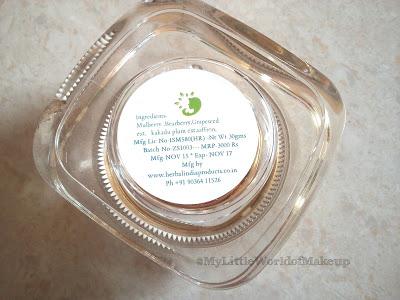 What does the brand claim:
Brighter & more luminous skin
Helps to control hyper pigmentation
Clarifies and reduces the intensity of spots
Perfect for acne and acne prone skin
Prevents the appearance of spots
It contains precious herbs and extracting their ingredients. It is equally good in all types of climate conditions. It makes skin soft, tender and glowing. It removes layers of dust and makes skin look fresh and healthy. It is equally beneficial for men and women.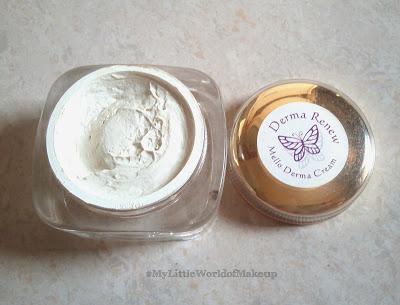 Packaging:
The packaging looks very luxurious with a clear transparent jar and a golden lid. It has an extra cover inside to prevent the cream from drying. Not very travel friendly due to its bulky size.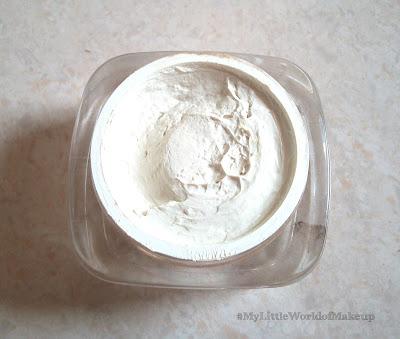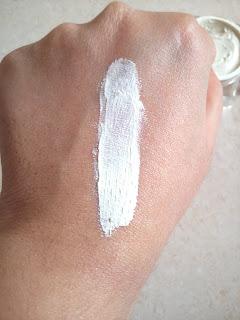 The cream is off white in color and has a flowery scent to it which is nice. The cream is not very thick nor thin and somewhere in between. Unlike some of their other creams I have reviewed it does not sit like a face pack on the skin nor leaves a white layer. It gets absorbed on the skin on blending. The skin feels soft and supple. In my case being honest I start sweating on my face when I apply it and eventually end up wiping it off. I tried using at night but used a small amount so that my face does not feel greasy. Next morning I woke up with brighter and softer skin. It definitely reduces spots and pigmentaion on regular use. I suggest using it only at night before bed.Also this will work for those with normal to dry skin as it is a bit greasy for oily skin people like me.
The Good:
Available online
Smells lovely and floral
Makes skin soft & supple
Helps in reducing pigmentation & fading marks
Can be used by men & women too
Ideal for normal to dry skin beauties
The not so Good:
Bulky packaging
No SPF
Not recommended for those with oily skin
Very expensive
Rating: 3.8/5
Herbal India Derma Renew Mello Derma Cream is meant for normal to dry skin people. It reduces marks, pigmentation and makes the skin glow on repeated uses. Since it is herbal and devoid of chemicals I do recommend it if it suits your skin type.
So what you think of  Derma Renew Mello Derma Cream? Would you buy it or have you tried it??Do let me know in the comments section. 
Thank you for taking the time to read this post. Hope you found it useful and informative.
Until next time.. Take care xoxo

P.S: PR Sample**